Gypsy has rescued Crow and Tom from the prison ship, thus avoiding their fearsome one-way journey to the shredder! She boarded in disguise as one of the Inquisitors; we don't really know who or what they are but apparently, they look like her and everybody in this universe is scared to death of the Inquisitors. Now, seeing as they've lost their heads or in Crow's case, his head-gear, it's time to go set everybody right. They'll have to do a little B&E to get it done, apparently (that's Breaking and Entering) – - unless the guard dog interferes… !
And that is SOME LARGE DOG, judging by that eye! lol
BEST VIEWED LARGE
Inspired by MSTK-3. Dr Who & other sci-fi shows
=========
The Saga Continues…
Tom and Crowe's Un-Excellent Adventure – 28
Hey, haven't they been past that theater before?? This one shows the finished building – had to put it up. You can't see it here, but the LED's all blink, and the windows and the posters are all lit up. It's pretty cool! (This is among the many buildings my husband's made from scratch for the model railroad). Figures lurking in the windows are additions for the series.
The second building is also one of his models! Its actually the firehouse. Couldn't use the trucks as those are packed away… so for now it's Robby's joint. (Large sliding doors, lights and signs are added for the series)
Here's a closer view of the Cast…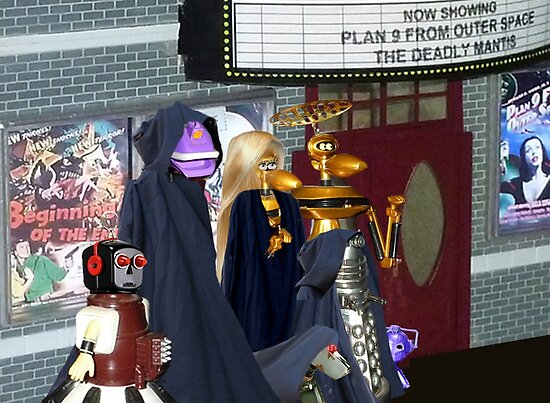 Nice to know Crowella wasn't really dating Tom; apparently she came to their window earlier to rescue the team, not as Crow assumed, to betray him. aw! As for why the Dalek's in disguise… are people terrified of him, or is he terrified of them? Hard to tell. Hey. This is an alternate Universe! And you never know about these parallel dimensions… Anything can happen.
(rest of the series is here) stay tuned!