' Yeah! There's a metal dog in here with a fez on his head! What's your point? Get in here right now, you ninnies! I've been looking for your sorry butts for days! We don't have a lot of time! Hoof it! Move it! Hurry up! They're almost here! We have to hide!'
"Uh… good to see you too Gypsy," stammered Tom. "One slight problem, though… there IS no place to hide!"
'Yeah? That's what you know. Yes, there is! It's blue, It's out in back. Well? Speed it up you dunderheads! I didn't come here for my health, you know.'
============
BEST VIEWED LARGE
Tom and Crowe's Un-Excellent Adventure – 6
With the daleks and the dragons in hot pursuit, Crow and Tom stumble on a roadside stand – and who should be awaiting them within but their old pal Gypsy from the satellite of love!? Along with "A Certain Doctor's" metal dog, K-9 who may have swiped the Doctor's fez… or perhaps he had his own before the Doctor even thought about it, who can tell. There IS something blue peeking from the back… will it get them home? Or as happens all too often, does it only mean more trouble up ahead?
The fruit stand is another of my husband's miniatures (without the signs). The Coke machine is from another miniature, also the Coca Cola sign. You do know, only time travelers get Coca Cola for a nickle, anymore!
Note the "We Are Out of Bananas" sign; must have been Doctor #9! (Reference is to Season 1 – and either you will get it, or you won't. LOL!)
Fearsome flying beasties are from dragon pack 2 by alegion stock.
You can see the rest of the series here
Close up – - Gypsy and her "stuff"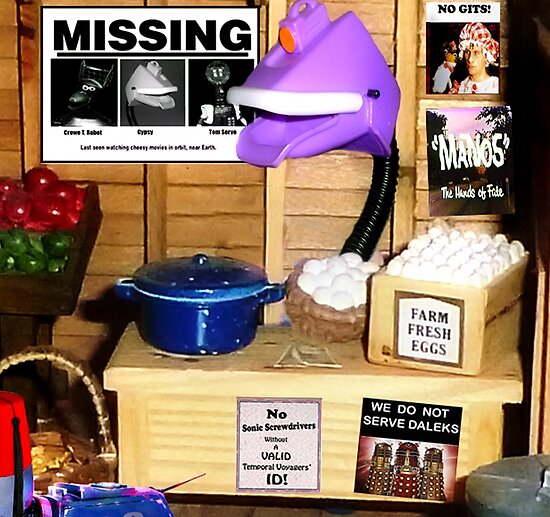 What do time travelers do with all those farm fresh eggs? No idea. Someone has to cook aboard the Tardis… don't they? :)