Inspired by the television series, "Life After People." The show is based on what would happen to our infrastructure, monuments and buildings, etc. – as well as the environment – if all of humankind should disappear from Earth.
Featured in ART UNIVERSE – Featured in ART & INK SO FREE ~
Featured in FREEDOM of EXPRESSION ~ Featured in EXQUISITION ~ Featured in the ABSTRACT SURREAL GROUP – Featured in HIGH QUALITY IMAGES
You might think ecosystems would recover rapidly if humankind were gone but it would be the opposite, especially early on. Power-plants would fail – nuclear plants, in particular. True, they're designed to power down in the event of an emergency: but it takes diesel engines to maintain the cooling process for the rods. And it takes many workers to provide the fuel and keep the system going. Without the diesel and without the maintenance, meltdowns would occur virtually destroying the environment, world-wide. Nature would recover – so they say – but only after multiple millennia.
It struck me while watching the show that all of its predictions would apply if MOST people were to perish, leaving just a remnant population in their wake! So let us hope there will be no children in the future such as these three, breaking into old museums to ponder what the images were all about!
Template for Background: Future Room by Teb_h stock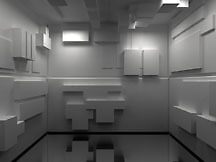 A Photoshop creation altered drastically with multiple textures, custom brushes and additional custom elements. My first idea was to do a futuristic gallery in a long-abandoned museum; then I got to thinking that a long-abandoned museum would fall prey to time, weather and the elements so this was the result.
Credits (Deviantart.com)
Child kneeling: A Child's Grief – Dawnallen Stock
Child in coat: from Pirate and Child1 by mizzd stock
Chid in the doorway: Child by Hannah Stock
Landscape with trees/flower from This Side of Heaven by mysticmorning stock
Beach image from Underwater background by linzee777
Cottage in the woods from Premade background 32 by motherearth23
Bird portrait from Gage Park Zoo by fallnstock
Exterior (through doorway) from Premade Background 1 by tom araya
Trash on floor from "Grungy Place by Kangelstock*
(Other photos mine)