Spring Scene/ Barn Beside a Pool
(Jo Daviess County, northwest Illinois) USA
2828 views, 54 Faves, 21 Features
I couldn't really tell if this barn is abandoned, or whether it was still in use. There is a house nearby – occupied – and there were cows so either could be true. Sometimes it's hard to tell!
Winner ! ~ YOU'RE ACCEPTED CHALLENGE!

Winner! ~ Glorious Spring and Fabulous Fall Landscapes Challenge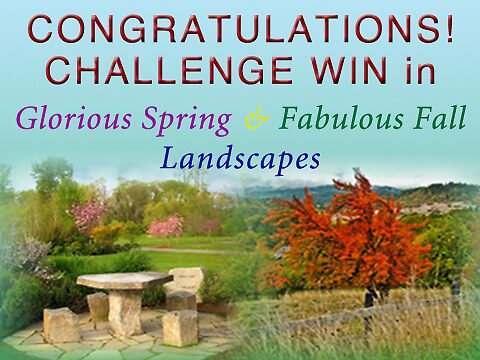 !
Top 10 ~ Midwestern US Photography Challenge

FEATURED in FREEDOM in WORDS & ART
FEATURED in The OLD THINGS Group
FEATURED in GLORIOUS SPRING & FABULOUS FALL LANDSCAPES
FEATURED in MIDWESTERN US PHOTOGRAPHY
FEATURED in OLD BARNS, GRIST MILLS AND COVERED BRIDGES
FEATURED in SUPERBLY VISUAL
FEATURED in COUNTRY BUMPKIN
FEATURED in OLD THINGS
FEATURED in DOWN ON THE FARM
FEATURED in HIGH QUALITY IMAGES
FEATURED in FREEDOM in WORDS and ART
FEATURED in NATURE and MAN
FEATURED in FEATURED for a CHALLENGE
FEATURED in YOUR COUNTRY'S BEST
FEATURED in AMERCAS – RURAL, URBAN, WILD, FREE
FEATURED in TOP FAVORITES
FEATURED in AMERICA the BEAUTIFUL
---
Enhancements have been made with CS2. I took this on a gloomy day with heavy overcast and the original is quite dark. No color alterations but I made adjustments in the shadows and highlights, then used an overly of "vivid light" and another partial overlay of "Glamour" in Virtual Photographer. This often works to bring up a shot that's rather "blah" taken on a dreary day! The trick is adjusting those percentages when you blend the layers. Vivid Light for instance, is almost always much too overwhelming at 100%! This is probably more like 15%. Like seasoning, a little goes a long way and too much can spoil everything. I find it's true with most effects and filters when I work in Photoshop.
Canon Rebel XTi