(Can't Find My Way Home…. and what you learn later on life, is, you never really do! There is no going home… not really… no matter what a Long, Strange Trip it's Been.)
FEATURED in ART UNIVERSE
FEATURED in BREAKING THE BOUNDARIES
FEATURED in Love of Eerie and Enchanting Artwork
FEATURED in DIGITAL ART COMPILATIONS
FEATURED in FAVOURITE FANTASY CREATIONS
FEATURED in FANTASY & MYSTICAL THINGS
Top 10 in CHALLENGE – Altered by Design!
Although I mentioned two songs here, the title tells it all… there have been many versions of the song by a variety of artists, but my favorite is the Classic from 1969 by Blind Faith. I am not even going to comment on the way I interpreted it at the time…. Of course as with everything in life, I see it differently today. And as with so much music from the 60's, I prefer the original. One note, and I am back ion The Avenue in Berkeley, California. I can almost smell the incense! Subsequent versions don't quite take me back. Close…. but something's always out of sync.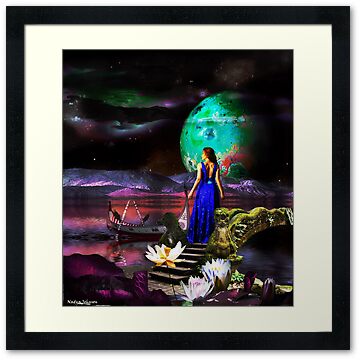 (All elements are mine except the stone bridge, the woman and the boat. The bridge is from fa-stock (stock photo), the woman is from lockstock, both at Deviant Art.com. The boat is also from Deviant Art.