If I could travel back in time and I showed up now and I explained, would it make a difference?
FEATURED in SISTERS in ARMS
3-8-10

You would think in all this time – forty-something years – I would have learned decent Russian, in which event we could do a better job of communicating than we did back then. I did take classes later, but in truth I didn't learn it all that well. Funny thing! You were speaking mostly Polish anyway — probably Aunt Lottie's fault for living in the downstairs flat. I remember how the two of you would jabber, one in Russian, one in Polish, and you must have done what I did later when I lived in Mexico, and mix the two. Then there was the English thrown in… imagine my surprise. "No. Choo-zees is NOT the Russian word for shoes! Where did you come up with that?" I may as well have used one of Grandpa's infamous remarks, like "Be's you know?"
Looking back, you never got to see my son get much bigger than he was the day I took this photo. He was only 2 weeks old! He is now 43. Damned handsome too, and doing very well. Lives in California.
Nearly everybody flocked to California when you died, you know. Word was, they were only staying in Chicago there "for ma" in any case. My mom, my dad, Anna, Manya… no, not George. He did leave his quarters in the basement. Finally married Lillian and moved to Elmwood Park. Not Uncle Al and Lottie. They stayed. Al always did say, he'd die in that building. You yourself heard it, more than once. So the old brownstone wasn't sold — not until much later, not til 1991. Lottie was the last of the mohicans. Al was right. He passed away in '89 – right at home. So did Stevie. Well, Stevie moved away some years before, had his own house and was getting married. But he did die that year, and so young! Not yet 38. So Lottie finally sold the place.
I'm pretty sure they must have ghosts, whoever lives there now….. I almost asked, in fact, a couple years ago… I came back to Illinois and went down Augusta Blvd. to see the place. It was a wreck in '91 and so was the neighborhood. Lottie sold it for a song! $20K as I recall. From the looks of it, the neighborhood is somewhat better than it was twenty years ago but nothing – nothing! – like it was in the 50's when the area was Prime. Well, you knew Chicago… that's the way it goes. Up, down, up again and down.
I didn't have the nerve to ask the lady whether she had poltergeists around the place or not. I didn't even tell her that we owned that place for nearly 50 years – or, that Al had died there in the living room. Didn't tell her anything about the cops hauling Al and Lottie off the time they came for Stevie, either (well, they should have been a little quieter about it) – or, the gun fight out in front with Len – or any other ugly incident, none of which you knew of since they happened after you were gone.
You never said too much. If we had spoken better Russian maybe you'd have talked to me and Stevie more. There it is again! I would have liked that. As it is, I heard the stories and the family history and the old adventures from my mom and Manya mostly, and sometimes their stories didn't quite agree. I know they couldn't say your name when you got to Ellis Island, so they changed it officially to Stella. I know you lost two kids before you ever got there too, so you came to America with only George who was not much older than my son was, here. I know grandpa came here earlier than you, alone, and when he learned that Antony and Katherine both were dead, he keeled over in a faint from shock.
I know little Katherine loved to dance. And sing. And had the sweetest voice this side of heaven. That's what Manya always said. Not that she was there, but I guess she heard that part from you.I think now, you must have thought of them when you were holding Scott that day… how could a mother not?
I think now, you must have wondered who and where my baby's father was. What must you have thought? What you never knew, is that I kept his father's true identity a secret for a reason. Not a great reason, no… but it seemed better to me at the time, than it does now, looking back.
He was Russian too. No one knew that, not for years. That's because his parents hated me and my parents hated him, and there we were. Like Romeo and Juliet! "Don't you bring that Marlon Brando creep around again!"(Mom wasn't fond of leather jackets much) and, "Why is that red-haired tramp here drinking beer with you while I'm supposed to be at work?"
Oops!
Just two incidents of many leading to our being positively and Forever Banned from one another's company throughout high school. And beyond!
At the start, I didn't even tell HIM about the baby! I had it All Figured Out. I would hold off until the family war was over with and tell him, after that. We would get together then. It almost happened, too. Not quite. I returned from California for a time, and we got together. We were kind of a family for awhile, even – when he wasn't stoned. By then, it was the late 60's. Well, you have to understand. By then, the world had gone bananas, us along with it, and that's the way it was. Really, that's why Stevie died so young. (AIDS, from the needles, even though he'd been clean and sober for 11 years. There's a disease you never heard of —! Lies dormant in the body for a decade, maybe more, and Bingo! Surprise.)
My baby's father didn't make it either. And it wasn't "just" the drugs. He got in with bikers : users,boozers, losers and abusers. Which is why I left again for San Francisco back in '69. Heroin. Bad Business! Gets you either way. You don't think all that much about a person being murdered, not at 27. But it happened. I was out in California, he was still living in Chicago. That was that. I heard it from a friend who saw it in the paper and she called me up.
Except I wrote to his mother after that… figured she should know I had his son. (There's that Mother Thing again. Me, I wouldn't want to NOT know I had a grandson after all, especially after that. )
I really didn't think she'd be too happy with the news. After all, the red-haired tramp and all — ! My mother wasn't thrilled about it either. Not until it all came out that Scott's dad's mom was Russian too. Well, there was the German surname…that fooled everyone. Me, I went by Nikki then… we had never bothered telling anyone because in those days, being Russian was about as popular as being buddies with Osama bin Laden, now.
Turned out, Scott's other grandma made a beeline from Orlando all the way to California when she got the news. Drove the distance in a blue whale of a car as I recall, and brought her sister too. That's what I picture now… everyone around the table toasting everybody else (you know how Russians are). "Oy, oy, oy! If only we had KNOWN you were Russian — !"
Why is that? I'm flummoxed! I cannot explain it. All I know is, all past grudges were forgotten and after that, everybody got along. She (Jon's mother) is alive now – 93. We just went to visit, not that long ago. Everybody else is gone… all but Lottie really, and I think she's 93 as well. She has Alzheimers though and I don't think she knows me anymore. Something else you never heard of, way back then…
What must you have thought! Here's my great grandson, and his mother is a red-haired tramp who doesn't even know who Daddy is? Well, that was not the case. And this is what I would explain if only I could travel back! It still bothers me to think what a disappointing specimen I must have seemed.
Whether you'd have liked him..? I don't know. I recall the day when I was 9 and sat at the wrong corner of the table. I think I also blew a candle out. Oh, the furor! You put your hands aside you head and went screaming to the kitchen. "Oy, oy, oy!"
I asked Manya, "What's the matter? What'd I do?"
She said, "Oh, never mind. Its just an old Russian superstition. If you sit at that corner of the table and you blow a candle out, it means your life is ruined for at least thirty years. You'll probably never find a husband now! And if you do, he'll be a drunken lout."
Y'know… that DID apply for quite some time! Got a good one now, but it did take me almost 30 years! Wish I could tell you that, as well.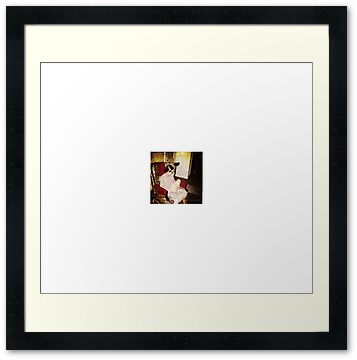 (Reflections on a Drama, one of many, from the Past)
Photo, which I took in 1966, is aged, texturized and layered using CS2.