Scene from a Miniature
Papa Bear is 2 1/2" tall but has a BIG time on Christmas, even though he lives alone. A burger and coke will have to do… he's not much at cooking in the first place, not since Millie left; anyway, tonight, a couple guys are stopping by for the usual game of cards and it's Rudy's turn to bring the food.
The burger, the books, the Christmas cards and Christmas tree are all hand-made (by me). Oh, and the record albums too beneath the table in the box. (Canon Rebel XTi)
3 Features/ CHALLENGE WINNER! (For the Love of Teddy Bears)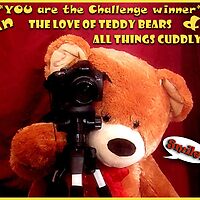 If there is a hobby or an avocation more obsessive than photography — miniatures is it!
Part of a series. I do both bears and "other" work with dollhouse miniatures.