Autumn collaboration with Daniela M. Casalla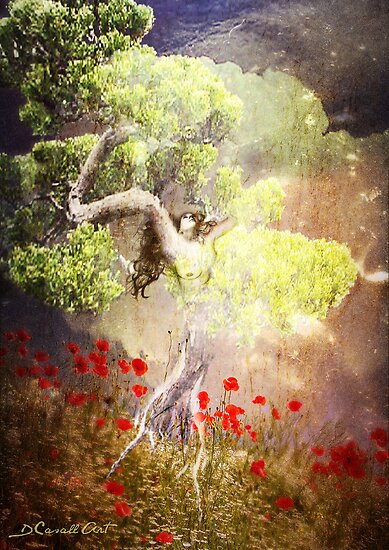 When autumn leaves
tumble from a tree,
I gain a sense that
she offers praise.
She seeks to dance
with each twist and wave,
arms raised, uncertain
how to move gracefully,
but trying nonetheless.
Even with my beloved
weeping willows,
she effects a tender whirl,
tendrils curl, and slide,
along an impressive trunk.
Always conscious
of her groundedness
she offers safety,
security, year on
year, and still,
despite her heritage,
she rejoices in dance!
When autumn winds
visit my mother
in Warrnambool,
sometimes I surmise
she has tried not to dance.
Tired and frail,
she rejected chance,
focused on her too-young husband's death,
the too-old deterioration of her mother,
children who drifted to bigger cities.
Sometimes in autumn,
I think of my mother
reaching for her girls
and two grand-children,
yet preferring the solitude
of her hometown
over something closer.
Perhaps she needs the weight
of all she has beared;
heaves it over her shoulder,
shudders and sighs.
As for me in autumn?
I gleam and glimmer.
I take my cues from the trees,
glorying in red, brown, orange hues.
A living sunset.
Breathing in the grass.
Twirling in light rain.
Arms raised,
carefree,
happy to be me.
---
Although I wrote this poem March 2011, I recently found an image that captures much of the emotion I was feeling at that time, so I asked Daniela if I could link to her art, and she kindly accepted. Please visit her impressive portfolio and comment on Mind Freedom – inspired by Antoine de Saint-Exupery I know but one freedom, and that is the freedom of the mind.