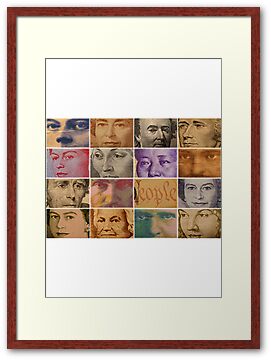 Money with faces, people well known around the world.
Images from paper bills of the Queen of England as denoted from several country's bills at different ages in her life, or of the older American Secretary of Treasury from 1874.
Scientists and politicians, heads of state and other dignitaries grace various monetary bills. Each detailed image is constructed from very fine, engraved lines.
These images were taken with a Canon G9 at 10x magnification using an Opteka 10x 58mm macro lens.
Featured in "50+" and "Collective Collage" groups