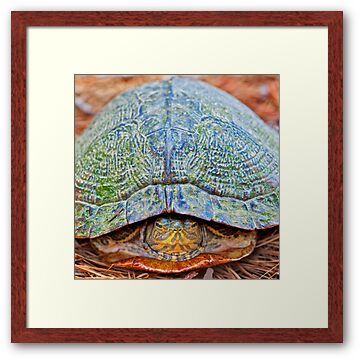 A tortoise hides underneath his colorful shell as he treks across pine needles in search of his old water spot.
I stopped him on his meandering journey away from the pond, snapped this shot and then took him back to the pond from which he came, and he merrily swam back into the depths of the water he was seeking in the first place.
This photo was taken with a Nikon D700 using a 24-70mm aspherical lens (Nikor 24-70mm 1:2.8G ED, ISO 200, FL 70mm, A f/6.3, SS 1/160).
Aperture was used to slightly enhance the photo, and Photomatix was then used to enrich the colors and bring out the texture of the deeper shadows.