This is a dark phase of this caterpillar. It is more commonly a greenish yellow and some phases are a mix. I never saw this before. This caterpillar was munching happily on a bush honeysuckle, although they like Dogbane and Snowberry. Hawk moths are also called Sphinx moths or Hummingbird moths; this particular type flies during the day and drinks nectar, so you'll find them feeding at flowers. Their wingspan can be up to 2 inches. I think they look like flying crawfish.
There are generally two hatches a year – three in some areas.
This caterpillar was photographed at Green Lane Reservoir in Red Hill, Pennsylvania, USA, on September 26, 2012.
You can have some fun reading about them at:
http://www.butterfliesandmoths.org/species/Hema...
Please view large to see all the details:>)
Here is another view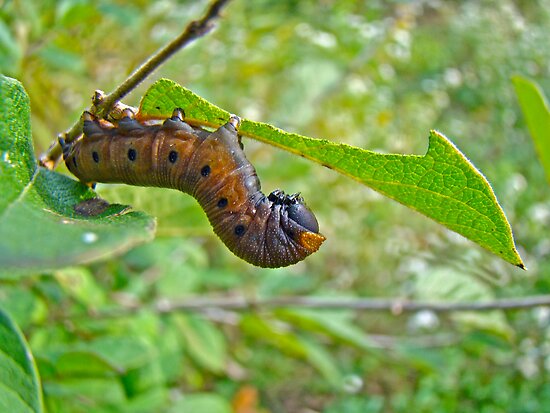 Snowberry Clearwing Hawk Moth Caterpillar – Hemaris diffinis
by MotherNature