This is an invasive alien species that originated in Japan and Europe. Japanese barberry is a deciduous shrub that grows 2 to 8 ft. high. The branches have a single sharp spine at each node. The leaves are small and oval, a nice green in summer and a very pretty red or orange in autumn.
It flowers around mid-April to May in the northeastern USA, with tiny creamy yellow-white flowers that hang downward on the stems. The berries are bright red and mature during late summer and fall often lasting through the winter.
It is a pretty plant that grows throughout our woods in places where there is dappled sun and dependable moisture. This picture was taken in Green Lane, Pennsylvania, USA, on May 6, 2012.
There is a native species that has toothed, not smooth margins on the leaves.
For more info you can visit:
http://www.dcnr.state.pa.us/forestry/invasivetu...
The flowers look like this: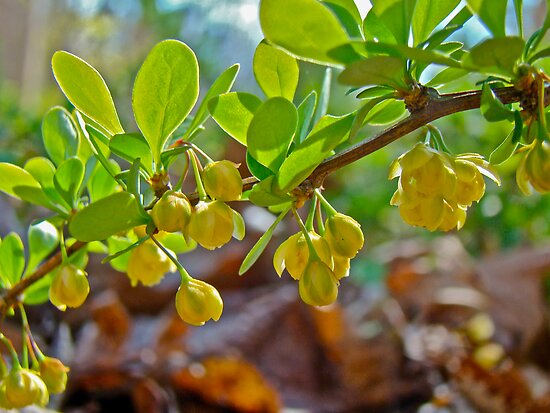 Japanese Barberry – Berberis thunbergii
by MotherNature