The Great Mullein begins as a rosette of fuzzy leaves low to the ground. In it's second year it sends up a bloom stalk, dragging leaves upward along with it, that can reach over six feet high. The yellow flowers bloom along the top half of the stem. This plant like disturbed areas with a lot of sunlight, and you can see them happily growing in colonies along roadsides. They survive because of the large number of seeds produced, but the specific needs of this mullein make it unlikely to take over and become invasive.
They have a number of other names like Pilgrim's Flannel or Pigs Ears. It's seductive to stroke the beautiful gray/green leaves, they are so soft and fuzzy:>)!
This picture was taken May 24, 2012, at the Nature Center in Marlborough Township, Pennsylvania, USA.
Learn more about Verbascum thapsus at:
http://www.illinoiswildflowers.info/weeds/plant...
and
http://en.wikipedia.org/wiki/Verbascum_thapsus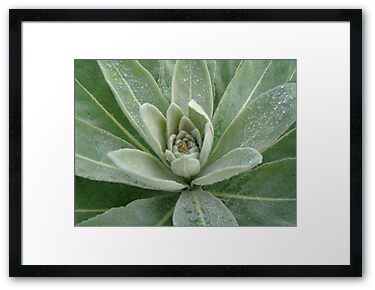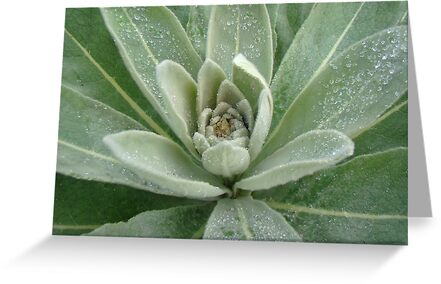 The flowers look like this