Turkey Vultures are the most common of the New World vultures, ranging from southern Canada throughout the United States and down to the southern tip of South America. They are big birds commonly seen floating on the thermal currents as they seek carrion for a meal. They locate food with their keen sense of smell – nature's cleanup crew.
These birds like basking in the sun on a dying tree behind our house, often spreading their wings wide open.
More details are available at:
http://www.allaboutbirds.org/guide/Turkey_Vultu...
http://en.wikipedia.org/wiki/Turkey_Vulture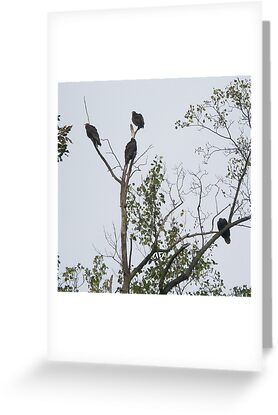 This card could be a birthday card saying something like, "Happy Birthday You Old Buzzard!"