This is a true story. You can read the poem below.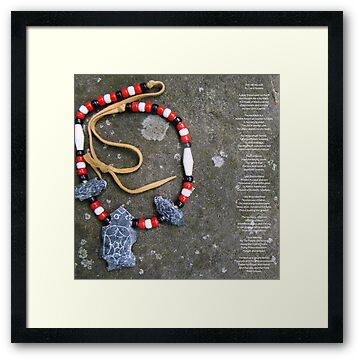 THE NECKLACE
By Carol Senske
A dear friend went to Banff
And bought me a necklace.
It's made of black and red
Glass beads and a stone
Incised with a turtle.
The necklace is a
Native American tourist trinket,
A fertility symbol.
The tie is leather and
The glass and stone are heavy.
As I'm no longer fertile,
I give a different meaning
To this necklace.
The weight of conscience and
Malevolent history buried.
Red for blood,
Black for empty souls.
The turtle sign
For the dark birth of
Manifest Destiny.
I put the necklace
Around my neck and see
Thousands of blankets given
To Native Americans
Infused with deadly smallpox.
I see Wounded Knee
Women and children,
Old men and grandmothers
Dead, shot, murdered for hate,
Blood soaking the ground.
The necklace conjures
Millions of bison
Shot from trains and rotting
In the glorious white sunlight,
Starving the Indians.
I hear keening.
As The People are herded
Along the Trail of Tears,
Dying from exhaustion,
Hunger and despair.
The necklace weighs heavy,
Pregnant with forgotten memories
Easier to forget and repeat
Another day, another time
Until forever.