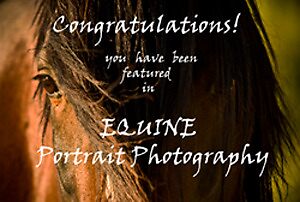 Featured in The World As We See It
Featured in Equine Portrait Photography
Assateague wild ponies have roamed the beaches, pine forest, and salt marsh of Assateague Island since the 1600's. Assateague Island National Seashore has a combined total of over 300 wild ponies in Maryland and Virginia. Some people believe the horses arrived on Assateague's shores when a Spanish galleon ship (with a cargo of horses) sank offshore. Others believe the horses arrived by early colonial settlers that allowed them to graze there. A Spanish ship wreck was discovered recently in the waters off Assateague which lends credit to the first theory.
The ponies have become well-adapted and enjoy the solitude Assateague Island offers. Marsh and sand dune grasses, rosehips, bayberry twigs, and persimmons supply the bulk of their food. Assateague ponies are often found feeding on the salt marsh cordgrass along Assateague's western shoreline. When traveling by boat, you may encounter Assateague ponies along extensive bay habitats and pine forest of the 37 mile barrier island .
Photographed with a Nikon D90 and a Nikon AF-S NIKKOR 14-24mm f/2.8G ED Lens.