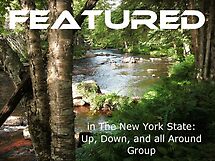 Featured in The World As We See It August 2010
Featured in Streams & Stream Crossings
Featured Member of Streams & Stream Crossings
Featured in All About New York State August 2010
Featured in The Great Outdoors Sept. 2010
Featured in Adirondack Artwork
I ran across this beaver dam on Route 9 in Adirondack Park just south of Lake Placid New York. This is South Creek and is well known for fishing. It was a hazy morning with overcast sky so the lighting here wasn't that great. This dam was from one side to the other measuring around 40-50 feet wide.
The Adirondack Park is a publicly-protected area located in northeast New York. It is the largest park and the largest state-level protected area in the contiguous United States, and the largest National Historic Landmark.
The park covers some 6.1 million acres, a land area about the size of Vermont, or of the Yellowstone, Yosemite, Grand Canyon, Glacier, and Great Smoky Mountains National Parks combined.
Much land is directly controlled by the state's Forest Preserve, but more than half the land within the Adirondack Park is privately owned, including several villages and hamlets.
I grew up around here and would love to spend a week or so just photographing the area.
Taken with a Nikon D90 and a Nikon AF-S NIKKOR 14-24mm f/2.8G ED Lens.
HDR, 3 exposures, hand held, processed in Photomatix Pro