Harlequin Ladybird (Harmonia axyridis f. conspicua)
I was about to treat my roses which were full of aphids, when I spotted this tiny ladybug (about 6mm long) on one of the branches. Unlike the ones you normally see around here, this one was black with red spots!
I have confirmed with www.harlequin-survey.org that it is indeed a Harlequin, which is not native to the UK but arrived here first in 2004! Apparently it's the most invasive ladybird on Earth and it's spreading quite rapidly. There are 46 species of ladybird (Coccinellidae) resident in Britain and the recent arrival of the harlequin ladybird has the potential to jeopardise many of these.
Unfortunately once I started taking pictures it decided to play hide-and-seek with me and wouldn't stand still! At least it let me take half a dozen pictures, most of them unsharp :-(, before it flew away… I thought this particular shot looked menacing enough :-)
Milton Keynes, UK, 21 July 2010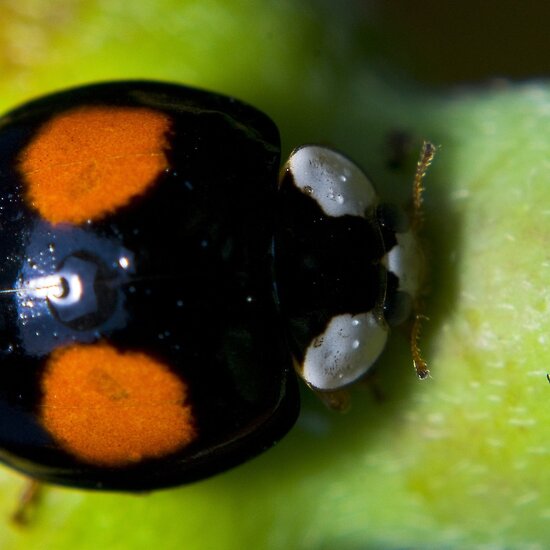 [Sony a350, Minolta Rokkor 50mm 1.7 (reversed), Cambron 2x converter, Minolta 5600HS flash diffused manual at 1/16, f:8, 1/125sec, ISO100, converted from RAW]