A Scorpion stands at the bank of a river, looking for a way to cross. As he waits a Fox comes to the river bank and prepares to cross. The Scorpion goes to the Fox and asks if he will let him ride on his back across the river.
The Fox say, "No, you'll sting me".
The Scorpion says, " If I do that we we'll both die", and he promises that he will not sting the Fox.
The Fox is reluctant but he sees that the Scorpion will drown in the river if he stings the Fox, so he allows the Scorpion onto his back, and so he begins to swim.
In the middle of the river the Fox screams in pain as the Scorpion stings him. As the poison begins to freeze his limbs and the Fox begins to go under the water he looks over his shoulder at the Scorpion and ask, "Why? Now we will both die".
The Scorpion looks back at the Fox and says, "I couldn't help it, it's my nature".
Native American Story.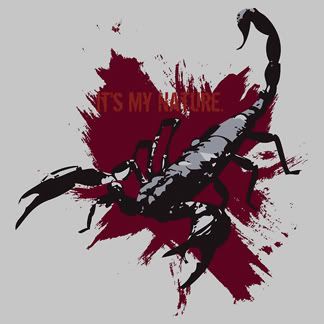 Copyright © by MOC2, All Rights Reserved. You may not use, replicate, manipulate, redistribute, or modify this image without written permission.