DEAR LINAJI!!! THANK YOU SO MUCH FOR BUYING MY WISDOM OF BUDDHA..SO KIND OF YOU AND SO HAPPY YOU ENJOYED IT..THANK YOU AGAIN!!!! YOUR A SWEETHEART…SHERRI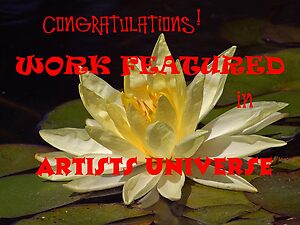 09-04-2011 Artist Gallery
gimpsoftware
Buddhist Wisdom Quotes
A collection of sayings, quotes and wisdom reflecting Buddhist or Zen philosophy and teachings, including sayings of the Buddha and Dalai Lama.
On life's journey
Faith is nourishment,
Virtuous deeds are a shelter,
Wisdom is the light by day and
Right mindfulness is the protection by night.
If a man lives a pure life nothing can destroy him;
If he has conquered greed nothing can limit his freedom.
Buddha
Believe nothing on the faith of traditions,
even though they have been held in honor
for many generations and in diverse places.
Do not believe a thing because many people speak of it.
Do not believe on the faith of the sages of the past.
Do not believe what you yourself have imagined,
persuading yourself that a God inspires you.
I HAVE TO INTERJECT THIS …I DO BELIEVE GOD IS WITH ME AND IN ME AND HE HELPS ME INSPIRE ME.. IF SOMETIMES I HAVE A HARD TIME DOING IT MYSELF…AS FAR AS
AS ART GOES, HERE AT REDBUBBLE I AM INSPIRED BY MY ARTIST FRIENDS…
THANK YOU.
.
God is the One who enables you both to want and to actually live out His good purposes.
Philippians 2:13
.
.
Believe nothing on the sole authority of your masters and priests.
After examination, believe what you yourself have tested
and found to be reasonable, and conform your conduct thereto.
Buddha
One of his students asked Buddha, "Are you the messiah?"
"No", answered Buddha.
"Then are you a healer?"
"No", Buddha replied.
"Then are you a teacher?" the student persisted.
"No, I am not a teacher."
"Then what are you?" asked the student, exasperated.
"I am awake", Buddha replied.
Live in Joy
Live in Joy, In love,
Even among those who hate.
Live in joy, In health,
Even among the afflicted.
Live in joy, In peace,
Even among the troubled.
Look within. Be still.
Free from fear and attachment,
Know the sweet joy of living in the way.
~
There is no fire like greed,
No crime like hatred,
No sorrow like separation,
No sickness like hunger of heart,
And no joy like the joy of freedom.