second of series
"She who forms the souls of the young is greater than any
painter or sculptor." {Saint John Chrysostom}
Bill Fox entered this beautiful quote
Thank you Bill
I believe that my painting shows the spiritually and the wonders of a woman. The softness of her soul and the beauty of being the mothers of all the children born into this world. Of course with the help of God. Someone said it was a fragile painting.. the farthest thing I would ever paint is a fragile woman or daughter or even think of it…
Above is the daughter and little baby they are not born yet. They are just thoughts that the mother and daughter were thinking and talking about!!When the day comes!!
You see 4 generations. All bringing newborns and and new generations into this world. We need to do something to make sure our children live in a better place that we are living in right now.
love, and kindness are missing …prejudice, hate, hunger for so many.. we need to change one by one..and someday things will get better for our children and each generation ..we are killing our Main Mother..Mother Earth needs our help people!! lets go for it and I know so many of us try !
I am dedicating my Painting Of Mother & Daughter and also Grandma.
For RoseMarie who just became a Grandma.
Jan. 17, 2011..God Bless you and your family!!
rosemarie747
and here is Grandma RoseMarie's beautiful grandchild
Sandia Marie!!!!!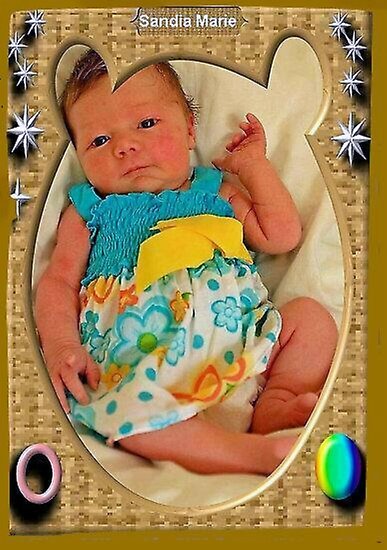 The World is up to us in so many different ways.
Mother and Daughter & Grandmas
Poems From Daughter To Mother
We're daughter and mother
Not so long ago.
We give and take
And take and give
Along time's endless row.
Love is passed
And love received
To be passed on again:
A precious heirloom
Twice, twice blessed,
A spiritual cardigan.
I'll put it on
And treasure it,
The me I have received,
And when the roles
Reverse again,
I'll have what I most need.
So may our love
Go on and on,
A hundred thousand years;
Mothers and daughters,
Daughters and mothers,
Through joys and other tears.
- Anonymous
digital painting!!
and acrylic on canvas
This is probably the hardest painting I ever did.. I worked for weeks here and there..It was aborted for my 3 times just as I was finished and ready to save…finally today it saved..so here it is..probably to light..


My friend Sky Princess put this adorable little picture..
My Mother and daughters is done hand painted digitally in gimpsoftware