©2012 Miles A Moody. All Rights Reserved. Kindly do not reproduce in whole or in part this written and/or photographic work without my written permission.
A view of the tulip beds of Memorial Gardens, a three acre garden cemetery owned by First Presbyterian Church of Concord, North Carolina, USA. The site dates back to 1804.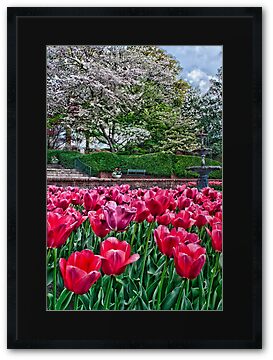 (Continued from Pristine) She is innocence; our hands trembled at her touch, such that we feared to draw near her, and in the distance we created, she became unknown to us.
Lily's heart was broken and she cried out for an answer; the answer came and his name was courage. She ventured down from her pentacle in the form of a woman and with him as her protector to walk among the people so they might remember her name. We would not believe that she was in us still and when courage stepped forth to show us how to receive her, we rejected him as well. The world became a battle-ground as the soldiers of courage fought and died to keep her alive and among us. The day arrived that Lily remained upon the highest of places only; places far removed from the world at large. Her heart was a desolate wasteland but her tears were heaven's rain, cooling the scorched earth of our despair, to give rise to new life, a new form, a new song. When you visit a field of lilies, wait in stillness until she arrives in the flutter of wings, in the sound of birdsong.
I have heard my friend Lily sing only a couple of times, the first time was memorial; her second brought me into a most powerful hope. You see, Lily is so much the wiser now and she's returning to us; courage is in her now and the ground of her new quest will be the substance of our hearts. This time, though we may tremble, we will not fail to receive her. Listen to the birds in the gardens, they sing of this as well!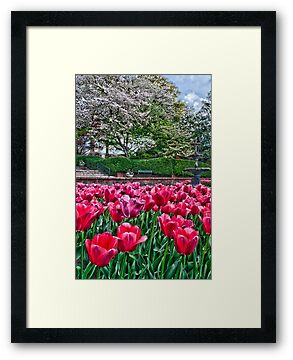 Nikon D90, 20 mm, F/22, Gitzo tripod, Bogen pistol grip head, CP filter, HDR2 processed in PS CS5 from exposures taken at 1/500, 1/125, and 1/30 for EVs of -2,0, and +2.