This is a 'looking back view' of the way I had come, standing in the valley floor, the west side of Cades Cove, Great Smoky Mountain National Park, Tennessee, USA.


I could have cloned out that little wisp of a car I left parked in the distance, but it seems somehow essential to the message in this image. What do you reckon?
The indigenous people of Australia speak of going on 'a walk about.' Native Americans tell of their 'vision quests.' One of my favorite poets, Robert Frost, in his work "Stopping by Woods on a Snowy Evening" speaks to me of that which one might encounter in nature when the needs, the current agenda, the 'I-gotta-get-it-done' left brain side is simply switched off. It is a moment of walking, wandering, strolling meditation. It works best for me in response to a subtle sort of feeling felt high in the chest, a feeling that I allow when I get out of my head. Initially, there seems no point in venturing out in this way – no gain to be had, no destination, no substantive justification. And yet, there is; just not in the usual manner of speaking. It is perhaps a very subtle, very deeply originating feeling of longing, and here's the rub. It feels like the longing, and that which is longed for…..all together and inspiring the same feeling. It's like the question and the answer there occupying the same space. And there is an evolving creative exorcism that happens inside as one ventures along this path less traveled. The way is littered with invisible refuse, the stuff that isn't truly necessary and because it's structured of thoughts and emotions, the substance of past experiences, one can't see it where they dropped it, but one feels lighter for having done so. A guiding intelligence is there in this feeling, I'm certain. I've heeded it enough now to lose much of my fear in taking it in hand to be made better, somehow stronger within me. Does it bring the courage I'll need with it in its approach or does it simply show me where to find it hidden within myself?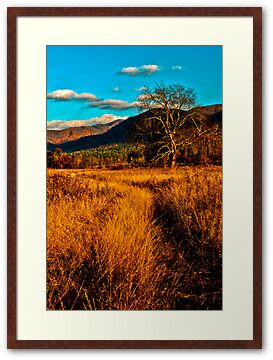 Is there anything special about the image above? Is it grand to look at? Spectacular to see? Perhaps not, but then it has everything in common with the road less traveled.
There is melancholy in some of Robert Frost's work, sadness at feeling confronted by the reality of lost opportunity; I feel that he was trying to startle us from sleep, prodding us into an awareness of an undercurrent of amazing and poignant experience that is available to us all. Wherever we are, however we find ourselves, it is there, waiting patiently for us to allow it in. ©2011 Miles A Moody – All Rights Reserved; all written and photographic works are not to be reproduced except by written permission of the copyright holder.
Nikon D90, 52 mm, CP filter, F/11, Gitzo tripod, Bogen pistol grip head, HDR2 processed in PS CS5 – 3 images 1/800, 1/200, 1/50 sec for EVs of -2, 0, and +2.
Stopping by Woods on a Snowy Evening by Robert Frost
Whose woods these are I think I know.
His house is in the village, though;
He will not see me stopping here
To watch his woods fill up with snow.
My little horse must think it queer
To stop without a farmhouse near
Between the woods and frozen lake
The darkest evening of the year.
He gives his harness bells a shake
To ask if there is some mistake.
The only other sound's the sweep
Of easy wind and downy flake.
The woods are lovely, dark, and deep,
But I have promises to keep,
And miles to go before I sleep,
And miles to go before I sleep.