Ganoga Falls, Rickets Glen State Park, Pennsylvania, USA – a lovely 94 foot cascading and freefalling drop, shot in a misting rain, on a fine day in October 2011; this Park is a waterfall bonanza, with more beautifully photogenic waterfalls per hiking mile than anywhere else I know. If you know of somewhere you think is better, then pray tell me, because Rickets Glen may have spoiled me for life.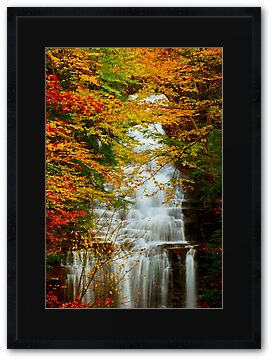 I've spent many a day quenching my almost insatiable thirst for time spent in the presence of waterfalls. I'll go out and bushwhack for mountain miles in places where the unsure footing seems to make it essential that I be well versed in (shall I say) the 'off-color verbiage' of at least three different languages (so as not to wear out my English favorites). And there are times that when I do finally arrive at the sorely sought falls, my camera never leaves its bag; and it becomes all about simply spending time in what I often find here even when the site, in my estimation, ain't so photogenic.
My younger days may have seen me, in such an instance, just take one or two disappointed looks, then hang my head and turn away to trudge back the way I came. Since then, somewhere along the way, I must have tarried there, maybe just to catch my breath. I'd look around me and then at the falls that disappointed me. An odd sort of incongruence would come over me invariably, where the feelings in my heart didn't seem to coincide with what I was seeing. You know that feeling that comes with viewing something really spectacular, that sense of wonder, of grandeur. An inkling of that would permeate my senses leaving me touched with the essence of beauty and no rational means through which to explain it. I'd look over there and feel it, then to my left, there, and then behind me. I'd raise my camera to record what I felt and the falls would still be covered in dead fall, devoid of silky cascades and bounces, still encroached upon by rhododendron to the point of obscurity – an irreconcilable paradox to peer through my view finder and see nothing of what I felt.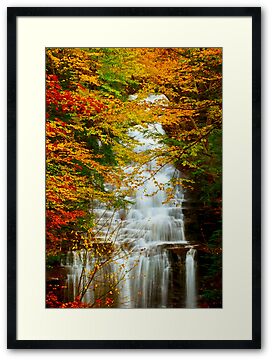 I had believed that it was the look of the place that justified this response in me – cause and effect – it looked grand so I felt grand. But I don't believe that way now. There's something alive and well deep in the forest; something innately spiritual – whatever that means – something that plays unflinchingly by a set of rules as old as time itself and something that many of us have come to resent way deep down where few are willing to look. It just doesn't seem to budge when push comes to shove. Get in the way of one of those rules and suffer the consequences; get thoroughly lost in the wilderness and maybe lose your mind if not your life….seems impersonal, seems unfair, harsh, uncaring.
Maybe I sat there long enough to sink deeper in and be confronted by the truth behind my foregone conclusions, to venture into the untamed wilderness deep 'within' while exploring 'without,' to penetrate through the ugliness found here, to find something truly amazing happens; it begins to feel, I find, not as I think it is – ugly; instead it begins to feel quite different indeed; it feels beautiful. My head may insist that it's ugly. My heart tells me something altogether different. There's something beautiful here, regardless of how it might look.
See for yourself…..dare to. Let go and feel how disconcerting it can be to wander within until you wonder, "Who/what am I really looking at here…this waterfall or me?"
Nikon D-90, 70 mm, ISO 400, Gitzo tripod, Bogen pistol grip head, HDR2 image processed in PS CS5, 3 images shot at 1/2, 1/4/ and 1/8 sec for EVs of +1, 0 and -1.
©2011 Miles A Moody – all written and photographic works may not be duplicated in any form without written permission from the copyright holder.