A 1953 Chevrolet Firetruck found rusting in a pasture in north Alabama USA.
The paint has mostly chipped away; of that which remains is scarlet faded: a cast aside and un-sung hero, no doubt. I look again. The tires are new; the grounds are tended. It becomes apparent to me that someone cares, someone remembers; someone of meager means is doing what they can. Maybe….This is how I want it to be, and if it is, then how many more have I missed; how many secret monuments are quietly turning to dust; testaments to bravery, to courage of the purist kind; to men, women, animals and machines simply responding exceptionally in extreme circumstances.
The head-light's crystalline clarity holds my attention as I slip away in time and space. They didn't wait around to make sure that what they felt to do was sensible nor did they linger to see who might notice what they had done. Accolades did not interest them, in this, the aftermath.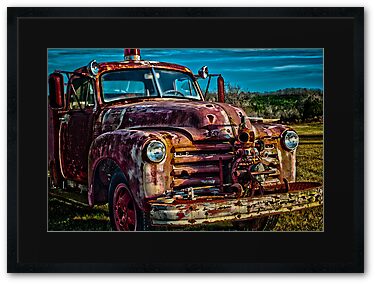 I can see them hurrying away, their heads ducked down as if fending off a storm, escaping the rising applause. Something has changed in them; something precious is now theirs; something has come to them by virtue of the choice they had just made in the heat of the moment before the doubts could creep in. Now it is that they run away, careless of the pats on the shoulder and the bright eyed appreciation that could be theirs; rushing home to those most dear to them, to embrace what they most love; to value another more deeply and honestly now; they will struggle for words and in the end fall silent, simply holding someone close, breathing of their breath, and finally understanding what is meant by that four letter word 'love.' There's no regret for all the hollow moments when the word was misused, no shame; it's like the person who did that is no longer here; the one that is here now knows, understands, appreciates, and is grateful. Something touched them in that heroic moment, something they opened to, allowed, then received when a catastrophe was averted, or maybe it wasn't; what seems to matter is the choice, to let go the ever-present need to survive and enter into mystery. I sense the gravity of the brotherhood they've joined, like the grandest profundity just out of my grasp; I can tell it's there but I can't quite gather it all in. The smoke has cleared, the sirens departed and I'm left scratching my head and wondering why. "Why did they do it….Why?" I'm blind to the grandeur and now I'm aware. I feel the hole in me only now that I know it can be filled. There's a hero in me, and there's someone to save there in me too. I won't need a monument erected any more than they did. They have gathered to welcome me home. I'm so afraid but I don't seem to care. I can feel the way forward. I'm taking that first step…..©2011 Miles A Moody. All Rights Reserved. This written and photographic work cannot be reproduced in any form without written permission from the copyright holder.
Nikon D90, 48 mm, F/22, Gitzo tripod, bogen head, HDR2 processed in photoshop CS5 from three images exposed at 1/5 sec, 1/20 sec, and 1/80 sec for EVs of +2, 0 and -2.