A 1954 Chevolet Belair found on the roadside in a little community in north Alabama USA called 'Freedom Hills.'


I'm told that this area was once known for its 'less-than-legal' distilled spirits long after the boot-leggin' heyday of the roarin' '20s. I can imagine how big block dodges, fords and chevies were still plying the gravel back roads of 'dry' counties here in the deep south when this little lady first rolled off a Detroit assembly line. Maybe she has more than a spare tire hiding in her trunk even now; perhaps a few glass shards and an ever so faint gin residue left over from that final load to Memphis that never arrived. Was the 'Revenuer's' car just a little bit faster that night? It's hard to know anything for sure, but hey, a guy can imagine, can't he?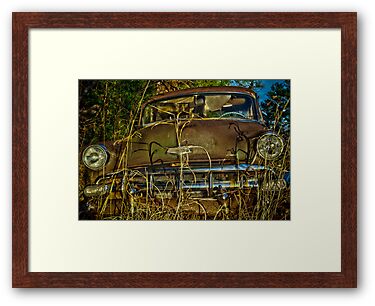 This is an HDR2 processed in Photoshop CS5 from three images. Nikon D90, 52 mm, F/22, Gitzo Tripod, Bogen head, Exposures taken at 1/50 sec, 1/12 sec, and 1/3 sec for +2,0, and -2 EV.