(Continued from
Kilbarri Tidal Scripts) "I've never been to bed with anyone, much less a 'gator." I felt silly once it was out, but the truth ran deeper than silly; I was ashamed of my virginity (the former part, not the 'gator part). Somehow I knew he could see it.
"It ain't her judging you that you're sore a'scared of, son, though you see it that way – her telling you that you're no count afterwards….well, that happening ain't the best of your terror in this. Can't be no surprise in it truly when it's what you expect."
I could feel it then, like my eyes were straining in their sockets to dilate my pupils to maximum readiness for battle. The scalding humiliation of someone seeing what I thought I had hid from even myself put my body into a state of full alert. He had tapped into a stunted part of me and it was from there that I reacted. "Who the hell am I so afraid of then?" (I can't recall if I stuck my lip out of not).


It was exactly then that the off key bells of St. Louis Cathedral somehow penetrated the noisy maelstrom of Bourbon Street to send mine eyes a'looking heavenward. The old shrimper shook his head. "Not Him, not so much as you think. Can't really know Him at all when you don't know who you are."
He read eyes; I accepted that about him; without taking time to doubt what I was doing I dispensed with verbal communication and simply glared a repeat of my question back at him. "Life's truly about learning the answer to that question and then fixing the situation, son. I give you the answer now, and it won't mean anything to you, because you ain't ready to understand. Shakespeare said it. You gotta get true to yourself first in life….College boy like you's bound to've read that a'ready."
My brew poised at half mast, I was too astounded that words of Shakespeare were emanating from between his sun cracked lips to trouble myself with a deeper probe. And he was right on both counts. I had heard those words before and they still made no real sense even with him repeating them.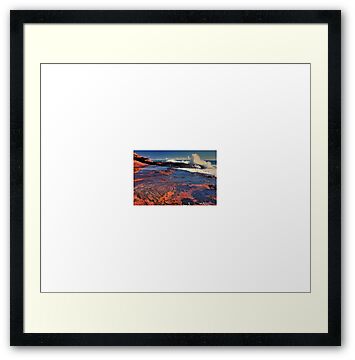 Now as I stand here on the Kilbarri shore, it's peculiar to realize that I had completely forgotten all the details of that encounter until now. As I recall that fisherman's face, I can not picture his disheveled appearance, his six day old beard, the sunshine stamped crow's feet in the scarlet corners about his eyes – all I can see is the radiance of his smile. It's all I feel in the shining revelation that I no longer wish to fear the truth of me. It wasn't the lies I believed about me that I feared the most. It was the truth beneath those lies that I had learned to fear, the truth that I am part of and the truth that if allowed will begin the process of dispelling the illusions that stoke the fires of my fear of me. I've been holding me back believing that I can't be safe in the truth.
As I read the script in the rock upon which I stand, I feel something of the truth dawning in me. There is the courage here to heal the disconnection and confusion, filling in the gaps, restoring me gradually into someone that I don't remember until I'm there. It's not something that I already know how to do, but the more that I allow it, the more that I am shown what it means to be truly willing to heal. ©Miles A Moody All Rights Reserved.
Nikon D90, F/22, 1/640 sec, ISO 200
"Our deepest fear is not that we are inadequate. Our deepest fear is that we are powerful beyond measure. It is our light, not our darkness that most frightens us. We ask ourselves, who am I to be brilliant, gorgeous, talented, fabulous? Actually, who are you not to be? You are a child of God. Your playing small does not serve the world. There is nothing enlightened about shrinking so that other people won't feel insecure around you. We are all meant to shine, as children do. We were born to make manifest the glory of God that is within us. It's not just in some of us; it's in everyone. And as we let our own light shine, we unconsciously give other people permission to do the same. As we are liberated from our own fear, our presence automatically liberates others." Marianne Williamson 1992