This is an evening shot of the Indian Ocean breaking upon the rocky shores at the end of Wyadup Road near Yallingup in SW Australia.
Nikon D90, 52mm, 1/640 sec, F/7.1, ISO 800
I absolutely relish the opportunity held in a moment alone on an isolated seashore. Such an experience is difficult to localize within the confines of the United States with its three hundred million plus population, but imagine what happens when one finds that same mass of land burdened by human habitation amounting to less than one tenth of what is found in America. Then imagine what becomes possible when one ventures into a sparsely populated region within that. Finding such seaside solitude becomes common place, and I find myself confronted with a choice. I can lose the gift in the fact that it is no longer made precious by its scarcity alone, or I can receive the gift in all of its tidal abundance and deal with where it takes me.


Standing upon this shore, I gaze out past the rocks and my senses are buoyed upon the rolling seas and I am made aware of what it is that perhaps captivated the sailors of old and drew them forth from the security of dry land. A song from my childhood plays in my mind about one such sailor's love affair with maiden sea. Her surface dips and rolls now rocking me into the cradle of my heart carrying me away into a vast expanse made tangible by the seeming endlessness of her, the length and breadth of her rippled interface with the sky.
Now my eyes pull away; unable to bear the peace I find awakening within me, I'm drawn to the wave crashing upon the rocks, just as if some childish voice in me needs to prove a point. I can almost hear it crying out its conviction, "See, this is what comes of trusting the way of the heart – dreams dashed upon the rocks of impracticality – the only truth alive in this world is loss!" I see a ship rent asunder in the self righteous seas of my mind, its few surviving lovers of the sea retreating in fragile boats for these rocky shores, only to dash themselves into oblivion along the only escape route she would allow them.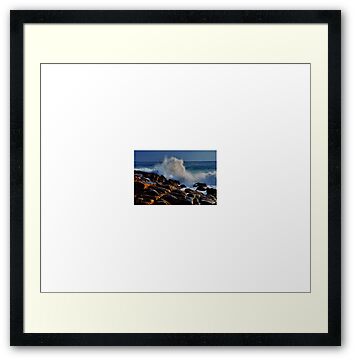 Now I feel the pain, but this time I don't run from it, I don't rage against its presence in me; the life boat that I row finds the will to back me away from the rocks of previous failure to ride out the storm. I sense an alternative, a different way that will allow her to unfold completely; I haven't permitted this before. I've broken the story in half and lent my own ending to it, making her into something that she isn't, into something to be wary of, into something bent on punishing me in the end. And now as I back away from the rocks, I let go of the oars and fall back into her waiting arms. These paddles, these prior means for my salvation, seen now in new light, slip out of their oar locks to be carried away into the rocks – oaken striving splintering – exposed by the brush of her watery hand. She lifts me up and reclines me so that I can see where my previous fear inspired choices always took me. I feel the crack, the giving way within me as I slide down the seaward face of the wave, gliding out to sea, out into that vast unknown expanse, surfing upon a new trust, as all apparent security shrinks in my perception…a distant shore fading until all I can hear is the lap of her waves stroking and soothing the yawning of my opening heart.
It's there, flowing through me now, the pain – not lodging up, not bearing its great white razor edged-ness as before; what has changed, something has shifted; a need in me to suffer has fallen away, sinking into her depths under the weight of her caress, and now the once mighty regret is draining away and out of me.
"Now at last you know me." Whispered in the breeze fanned by the waves to cool my beaded forehead, it is a fluid purging and a heated refiners fire burning within a forgotten core, dawning in my awareness to engulf the agony of who I have believed myself to be; in the throes of Jonah's leviathan I plunge through that which I have believed to be insurmountable and in that darkness of uncertainty within her depths I face the terror of what I've made of me. I hear the music of the song "What I've Done" playing as she takes me by the hand and together we descend the steps of undoing what I've made to happen in me.
"In this farewell, there's no blood, there's no alibi,
'Cause I've drawn regret from the truth of a thousand lies,
So let mercy come and wash away,
What I've done.
I'll face myself to cross out what I've become,
Erase myself and let go of what I've done….
I start again, and what ever pain may come,
Today this ends.
I'm forgiving what I've done." Linkin Park
There is beauty in her that I've been afraid to see because to look upon it is to begin to feel the pain of its apparent absence in me, because on some deeper level I know that it's supposed to be there – this awareness of her; and so to really see her is to feel her coming alive in me again to confront the remaining estrangement. She ushers me deeper into the chasm which closes behind us in our joint passage through it. I feel safe now to love her, to know that as I do so, I am acknowledging her as a part of me and me as a part of her. The pain of her absence dissipates into a sometimes quiet and sometimes triumphant…joy. Her name is grace; she is most merciful. I trust her now to heal me in a manner that does not require that I suffer. She showed me how to let that need go…along her path of undoing, erasing prior identities of rejection, to feel, to be, beloved once again. ©Miles A Moody Written and photographic works are the sole property of copyright holder; reproduction in part or in full only with expressed permission or purchase