Shoal Creek tumbles through a fifty foot series of drops and cascades at Eastatoe Falls near Rosman NC, USA. 'Eastatoe' was the Cherokee name for the Carolina parakeet, extinct since 1918. The local Cherokee tribe was known as "The Green Bird People," a reference to the color of this bird's plumage (source: "The Land of Waterfalls" by Jim Bob Tinsley). This is an isolation of the lower third of the falls. I feel so grateful that the private landowners still grant public access to this beautiful little gem, a tendency that seems out of fashion nowadays.
I don't own a waterfall myself; I confess there have been times in the past when I failed to sympathize with the "keep out" signs posted between me and the experience of another one of nature's water wonders. I came to better understand the reluctance of some when it comes to sharing beautiful places with others. I came to understand the posted signs from the perspective of one who will probably never possess a waterfall of his own. I lost a kind of innocence one day in Wilson Creek Gorge after an afternoon of gawking at the spectacle of one incredible sight after another.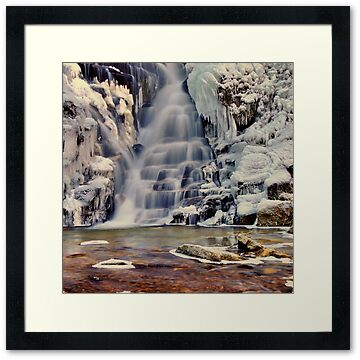 I rounded a bend in the river and arrived at a place where steep walls adjoined into a narrow basin like the hands of God cupping a deep pool of the clearest green. I swam its length, exhilarated, enlivened by the feel of the water, and surfaced, fully expecting to climb out onto the banks of heaven itself – such was my state of bliss. The sun warmed the tingle of my skin, drying me as the sun dropped out of view, permitting me opportunity to examine the intermingling of color that graced the opposite cliff wall. The granite here has a distinctive pink hue, the color of love, the poets tell me. I'm convinced that the life in nature had been nurturing me this day. Those of you who perhaps share with me in this understanding of nature's nurture, and those who have been hurt by the apparent callus disregard expressed by others toward nature, may like to read on.
Apparently there had been many prior visitors to this portion of Wilson's Gorge who weren't satisfied with Mother Nature's handiwork. It appeared more important that all future visitors know who they were in love with or which ball team reined supreme. Such gratuitous application of spray paint pockmarked the opposite wall sending me into a tail-spin of heart sickness. I hurt with enough intensity that fantasies of vigilantism crossed my mind in answer to my rising anger. I felt as if I'd been personally assaulted by the most malicious sort of individual, and although afterwards I had periods of success in repressing my pain, invariably it would resurface. Nature was my sustainer, ever reminding me of something greater than myself, something pristine, flawless; I felt unsafe, vulnerable now. Anyone with an aerosol can had the power to take this sustenance away from me. I lay awake more than a few nights meditating on this threat and marveling at the motivation for such cruelty upon the face of beauty. I went back and forth within me, between the place of wonder that nature had shown to me and the space of ugliness that was reflected in a marred and disfigured gorge wall. Then it hit me; both places resided within me; what I found that day on Wilson Creek was already within me, both aspects of it, the beauty and the horror – out of calamity glimmered a blessing – sensed but not yet appreciated (continued with Tones of Winter – Looking Glass) .


Nikon D90, 40 mm, ISO 100, 1.3 sec, F/22, gitzo tripod, bogen head, CP filter