Featured in the group All About Your Best Work Jan 2010
Featured in the group Inspired Art Jan 2010
South Carolina's Mountain Bridge State Park is home to the state's tallest waterfall where Matthews Creek tumbles 320 feet over four drops down Raven Cliff Mountain; the tallest drop, at 80 feet, is pictured here (stats from World Waterfall Database). The viewing platform that was once located on the spot where I took this photo is gone now and the forest is quickly taking back this view of the falls. Who's to say when, if ever again, shall a fully foliaged image reveal so much of this waterfall from such a grand perspective as this.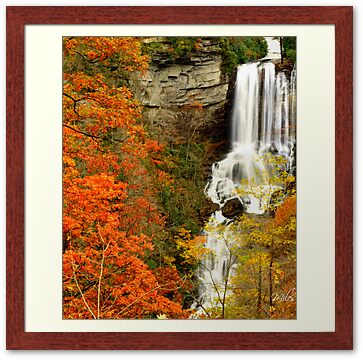 I've learned to approach differently such spectacular sights as this; I'm reminded of the movie "National Lampoon's Vacation (1983)." Upon finally arriving at the Grand Canyon, Chevy Chase satisfies himself with a short glance in each direction, departing immediately, and content that he has received all this place has to offer. After taking several shots at Raven Cliff, I put my camera away, having learned that if I am patient and free of expectation, sometimes something interesting happens. I can come away different, changed in a way that I can't help paying attention to, and over some time of rumination in my heart, new understanding simply makes itself known. It's a passive process that I simply allow until such time as the feeling experience of it evolves into something I can write about which sometimes takes weeks. I have these experiences in nature, feeling them at subtle levels just on the edge of my perception; they come on gradually, until I'm in them sometimes for days before I realize it. I feel stressed at first; a bit put out of my comfort zone until I surrender my resistance and go with the flow of what is happening. Over time, I've learned to better trust this intangible life essence that I find in nature, more quickly giving over to its healing intention; each time it takes me deeper seemingly taking a bit less time to process through than before.


That afternoon at Raven Cliff found me progressing into a state of gratitude; I felt grateful for the privilege to see this falls from this vantage point at this time of year. Only a remnant remained of the former platform as the forest was busy disintegrating the occasional post and plank that had not been carried away. I recalled how it had looked some fifteen years previously, when I had last come here and taken for granted a magnificent vantage of the entire falls, a view that I might never have again. Change would come and the park service would dismantle and move the viewing platform to a higher, and some say, inferior location. Perhaps it was for this reason that I found myself remaining there this time, long after my photos were taken, listening to distant roaring as the sporadic breeze shook the color surrounding me. I was no longer concerned with getting sharp focus at every depth of an image and so the breeze was free to refresh me with its motion. The sun came and went, but with my images recorded, contrast and shadow were no longer cause for worry. I had given myself the rest of the afternoon off; there was no where else that I required me to be. I lay back in the fallen leaves breathing air so sweetly exhaled by a billion leaves quickly passing into the twilight of their existence. The smell of earthy decay filled my nostrils with the fragrance of childhood excursions into woodlands at a time when dirt beneath my fingernails went unnoticed for days and when leaves in my hair and grass down my shirt wasn't seen as a detraction. I crushed a handful of leaves and breathed in the smell just as if responding to a playful suggestion from a kindly orator from across the way and found my legs and arms articulating at my sides like I figured to press out the impression of a 'snow angel' into leaf matter instead. All my cares were dropping off of me like dead skin flaking away, like the exterior of some frantic creature simply peeling back to reveal something so much more in tune with something else, something that seemed to matter deeply, something that somehow remained consistent, incomprehensible, and enormous, even in the midst of incredibly dramatic change occurring all around me. The constancy of the roar across the valley seemed to betray here and there a fine distinction in quality such that I began to wonder if I was the object of audible instruction. Palms face down and buried into decomposing leaves, my finger was on some mystical dial and static roar pitched into coherency….but only in my feelings. Where there had been numbness, I could now feel. I opened myself to the feeling of it. The understanding to follow would later surface into my awareness (continued with Autumn Befalling Raven Cliff 2).
Nikon D90, 1/4 sec, f/22, 44 mm, ISO 200, Bogen Pistol grip head, Wimberley tripod
©Miles A Moody LivingEarth-Hearthealing.com. Written and photographic works are the sole property of copyright holder; reproduction in part or in full only with expressed permission or purchase