(Continued from King of Winter) My heart was like a tortoise withdrawn into its shell; the physical hurt long ago resolved, but the brunt of derived meaning lingering still. As we sat together, I wondered, why is it that the same tragedy can inflict itself on two very similar individuals, while one is forever crushed, the other chooses to rise above the experience to never repeat it again. I seemed to encounter a plethora of voices out there in this world more than willing to invalidate, humiliate, and crush my enthusiasm for living. I had made a lifelong practice of internalizing the message of those voices, making its meaning my own.
But as I sat those many times with Wardog, I began to listen to a different voice; a whispered voice heard in my feelings; I learned to pay attention to that and to ignore the condemnation around me while confronting that same attitude within me. I made a new choice in each moment that I faced this, and gradually I let go of the reasons that had made a judgmental attitude important to me. I experienced the feeling of acceptance flowing out of the life in nature surrounding me, through the avenue of this deer and into me.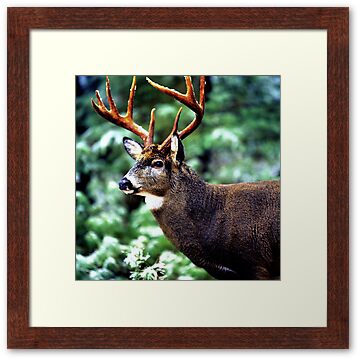 The tortoise in me had cracked his shell just wide enough to let the light in, challenging me to examine my foregone conclusions to discover (God forbid!) that I might be wrong about others as well as myself! Looking back I realize that I just got weary of judging myself and blaming others and then trying to cope by denying how I really felt. I turned my ear to the voice of love and sure, it meant that I found out that I was mistaken in so many ways, and for a brief moment each time, I'd feel exposed and vulnerable, and then I'd just let go of the need to deny it, and a bit of the truth would seep in and surprise me by making me stronger for having been willing to go through it.
Well, that's how it happened best as I can put it in words. As the saying goes, "That's my story, and I'm sticking to it (grin)"
©Miles A Moody LivingEarth-Hearthealing.com. Written and photographic works are the sole property of copyright holder; reproduction in part or in full only with expressed permission or purchase.
Nikon F5, f2.8 @1/30, 200 mm, Fuji Velvia 50, SB-25 Gitzo tripod, Wimberley head, Great Smoky Mountain National Park