Featured with The Beauty of Nature group Nov 2009
(Continued from The Grandfather 2) So the old storyteller continues, "When I came here the first time the mountains touched me and whispered the words that I'd be back. And sure enough, I returned often, for sustenance, for succor; it never failed that I found comfort amongst the rocks, trees and streams. I was no longer a young man that terrible day I topped a ridge and saw the mountains sprawled out and devastated, as far as my eye could see. They had cut away the mountain tops spilling refuse into the streambeds, choking them off and covering them over. The slopes were stripped bare of trees, and bare rock showed where it hadn't before, like a wound in the mountain's side. No rains had fallen for weeks. I could feel the mountains dying as I trudged from valley to peak, dragging my heart behind me.


"As I crested another ridge, there was green where none had been; a hundred thousand seedlings covered the descent. I watched as an elderly man thrust a steel tamping rod into the earth gouging out a hole; from the canvas bag at his hip he withdrew a single acorn. I saw him smooth it between his fingers and touch it to his lips, and then he laid it to rest in the hole he had dug. His hand rested only a heart beat over the place where he planted it; his eyes were shut; his mouth moved only slightly. Then he rose and moved past me with nary a word, first a bit this way, then a bit that, and he stood in that spot 'till he knew it was right; he plunged his rod down, and he knelt once again. His canvas bag rustled with its burden of acorns, hickory nuts and the like as he selected with care the next one to go in. He did it by feel. I never once saw him look down. He kept his face to the sky, ever smiling, with his eyes.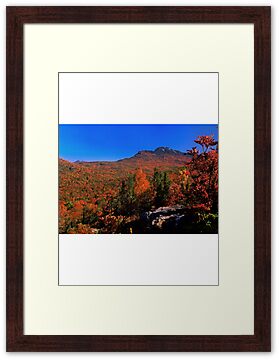 "I continued on my way thru this awakening forest, the inches tall produce of an old man's labor. They grew taller as I retraced the way that the planter had come. I made my camp two ridges over where the saplings grew over my head. It rained that night, a light soaking rain, and it's like my heart caught up with me as I slept. I began again that morning, my step lighter though the mountainside rose more steeply. I found the streams reawakened in the next valley, and birdsong greeted my ears. It was trees, not tender saplings that I found as I ascended the next range, trees whose girth I could hardly stretch both hands around. I continued along the way of the planter; my spirit was lifted up in a way that reached back into times I'd forgotten. The sounds and sign of wild animals became common. I began to encounter people, hikers, fishermen, and campers. I walked out of a mature young forest swaying in the wind and boarded the train to return to the city. Thumbing thru the newspaper left behind on my seat, I came across an article announcing a new federal park project in the place where I had just been. Biologists and politicians were all of one voice touting the miracle of reclamation that had occurred. A ruined land had restored itself by some incredible miracle all by itself, claimed the paper; everyone was amazed; the land was special; it had to set aside! It occurred to me that I hadn't spoken to my grandfather in years. It felt like time for a visit.
"I returned to that place over the years, continued the storyteller, looking for the planter. I found him far north where he was needed in West Virginia. He moved more slowly than I remembered from years ago when first I saw him. His rod looked shortened by as much as a foot. I put my hand on his shoulder and he turned and wiped his forehead. He smiled with his mouth this time though his eyes still shined with the light of the sun. He nodded as if he knew my mind. I reached for his rod and shouldered his bag of seeds, and I proceeded about the business of planting his trees."
______________
©Miles A Moody LivingEarth-Hearthealing.com. Written and photographic works are the sole property of copyright holder; reproduction in part or in full only with expressed permission or purchase.


Nikon F5, f22 @ 1/500, Fuji Velvia 50, Gitzo tripod, Bogen pistol grip head, Tiffen filters: CP, W and Enhancing. South face of Grandfather Mountain, North Carolina