I'm walking down a forest road and suddenly I hear. I crane my neck this way and that to catch a glimpse and then I see her. It's like I'm gazing across the dance floor; the crowd of dancers has parted and she's there, every eye captivated, every heart reaching out to hers; she dances without a partner as if inviting all of us to be with her. She's neither grand nor spectacular; there's simplicity in her beauty, and the same has gathered about her; a forest of color is her formal gown and birdsong is her accompaniment, and as she moves, she sings a song of her own in her thirty feet of silken tide.
She does nothing to purposefully call attention to herself, even her name is unpretentious; so much so that she almost has no name at all….'Waterfall on Log Hollow Branch,' as if her name came as an after-thought, as if to say, "Dude, we have to call her something or else how will we know who we're talking about." Her shape is unrefined; her light remains unharnessed, like a diamond in the rough; she dances free, radiating her nature in a manner unhampered by the good intentions of others. The beauty is in her, pulsing forth in the pounding of her heart; as much a reality as the earth beneath my feet and the sun above. I can't reach out and grasp the feel of her; I can't seize it in my arms to hold it close; I can't seek to possess her like a trophy on a shelf, but if I can feel the nature of her, then I can dare to know a bit more of myself.


I can feel her now, though there was a time when I couldn't. Then there was a time when what she brought to me, I received as a gift to be treasured desperately, as if I feared I'd lose it, and then I did. I lost the sense of it. I did not recognize her as part of me nor did I accept her beauty as part of my true nature, so when I experienced her, it came as something transient, something that I believed I could not preserve in me. It is said that it is better to have loved and lost that love than to have never loved at all. There is such courage in this statement, I feel. I realized that it was the fear, the expectation of losing something that made me close myself off and refuse to receive it to begin with. But after learning to receive, I learned that learning to become the gift was the greatest lesson of all. I learned to become the gift by giving it away just as she is doing here. She is sending it out in every direction to all who will dare to receive (continued with Beauty in Flow 2).
____________
©Miles A Moody LivingEarth-Hearthealing.com. Written and photographic works are the sole property of copyright holder; reproduction in part or in full only with expressed permission or purchase.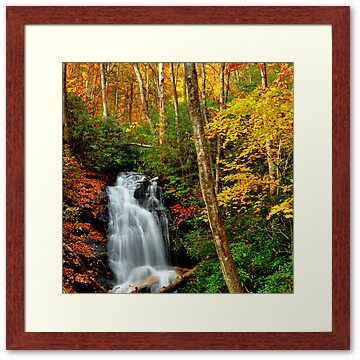 Nikon D90, f22 @ 1/2 sec, 50 mm, Gitzo tripod, Bogen pistol grip head, Pisgah Ranger District of Pisgah National Forest