It was a brisk winter morning about a week shy of Christmas when I came upon this fellow on a ridgeline a half mile due east of Cades Cove campground in the Smoky Mountain National Park. He had something other than me on his mind as he looked past me searching for a little doe that held every faculty of his attention.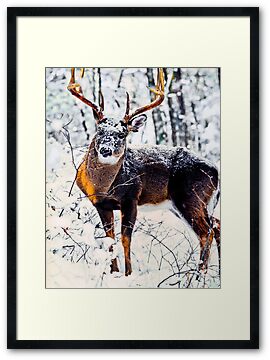 They were moving a bit too fast on that slippery slope for me, so I can't tell you how their little dance turned out for certain. He seemed terribly enthusiastic and she seemed quite enamored by his unwavering interest; I'm pretty sure that no one went disappointed that evening, including me. There was a sense of magic in the air; I know that is just too cliché a thing to write, but I can't help myself. I don't refer here to procreation; I speak to the recipe of experience that comes with being alone in nature (as far as other human beings are concerned) and hustling up a steep incline on a day when the air is so fresh that it lends credence to the notion that you've walked into a parallel universe free of all the woes that face our planet; everything around you is draped in pristine white, smoothing out all the sharp edges in contrast and blending everything into one.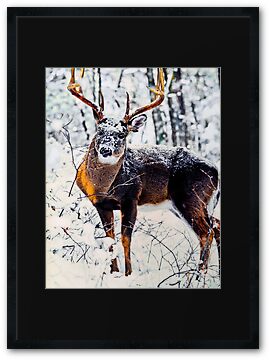 'Then' is 'now'….. somehow I feel it as if I'm there again – I can't catch my breath, not from exertion, but from the gravity of what I've stumbled into that's pressing in on my chest and tugging back at my heart. I feel privileged to be here witnessing it all and somehow I feel a part of it; a part of the trees, the mountains, and these simple innocent creatures as they answer an ancient call emanating out of what feels like every where at once. The breeze that rattles frozen branches and the gurgle of a nearby drainage muffled under the snow are my commentary to this strange communion spoken in a language not of words. It comes as new found feeling welling up from some forgotten place within. "Thank you." I say it to no one in particular. Something wonderful has happened to me. I'm like Ebenezer Scrooge ripping up all the debtors' notes I've been hanging on to for so long. I just don't need them any more. I'm exhausted from the day's trek and yet I tread lighter somehow; I'm aware now of how bound up I've been; I can see this now that I'm free (continued with Winter Wonder 2).
_______________
©Miles A Moody LivingEarth-Hearthealing.com. Written and photographic works are the sole property of copyright holder; reproduction in part or in full only with expressed permission or purchase.


Nikon F5, f4 @1/60, Fuji Velvia 50, SB-25 Speedlight @ -1 exp.comp. Wemberly Head, Gitzo tripod, Great Smoky Mountain National Park