Featured in the group Forests Oct 2009
Featured in the group Healing through Art Oct 2009
I sat watching him sitting there beneath the spruce and oak – a canopy of such density that little snow filtered thru. Winter chill creeping into my bones; I rose from my seat in the fallen leaves to run thru a series of deep knee bends, hoping to warm my blood.

Upon returning to my seat, I looked in utter surprise to see that he was fast asleep. It's a given that Park animals are far more comfortable with us that usual, but still I couldn't help but feel a tiny bit flattered that he would trust me enough to fall asleep in my presence. I was raised in a family of hunters, you see. Though I lacked the constitution for it, I participated just the same. It made me feel closer to my father. I went contrary to my nature to get my father's approval. I wasn't aware of this at the time. After many years, and having put my guns away, I realized that my life as a hunter had taken a toll on me somehow. I took up a camera, instead of a gun, and without knowing this either, I went into nature to find forgiveness. I had been away from nature for over ten years, away from my childhood friend, that place that I had retreated to for solace so often growing up.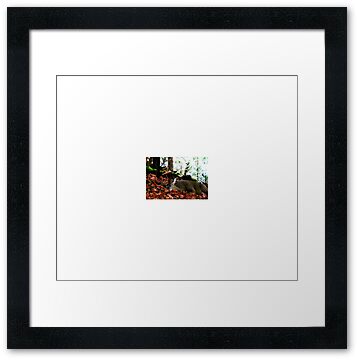 I sat there watching him sleep just a stone's toss away and something foreign crept its way into me – a feeling that if given a voice to speak would have said to me, "Hey, do you suppose that if he can trust you like this, don't you reckon you should be able to as well?" It felt like my father putting his arm around me and telling me that nothing else mattered; it was okay to make mistakes – it's how you learn. I realized that despite all the striving I'd never let me feel approval of me. It wasn't easy deciding to deal with me in a completely different way. But I met something there that day in the silence of the forest that showed me how to go about it. I found it deep within. A deer friend showed me how to find it.
____________
©Miles A Moody LivingEarth-Hearthealing.com. Written and photographic works are the sole property of copyright holder; reproduction in part or in full only with expressed permission or purchase.
Nikon 5F, f2.8 @ 1/15, 200 mm, Fuji Velvia, -1 exp.comp fill flash, Gitzo tripod, Wemberly head. Great Smoky Mountain National Park.