Featured in Snow Glorious Snow group
The first wild space I visited after moving to North Carolina was the Linville Gorge Wilderness, the deepest most rugged gorge in the eastern US, its steep walls dropping as much as one thousand feet to the river below. There is just something about Linville Falls that sums it up. Spend time there in the gorge and you can't deny it. Halfway into the gorge via one of many access trails and it's as if all burdens fall away into the silence. The river is too far distant yet to hear. It's only you, the virgin timber, and the exquisite rocky outcrops that mark your progress. Someone once said that the measure of life is not in the number of breaths we take, but in the moments that take our breath away. I believe that it's because whenever our breath is taken in this way, life leaves something with us that marks us for the duration. Nature leaves its mark in the pastel translucence of breath itself, lifting us up as far as we can bear in that moment. Some of us can bear a lot….some, not as much.
Sometimes, even now, as I gaze into this crystalline flow of Linville Falls, I can forget myself, my concerns, the particular circumstances of the moment, and find that I'm there again, breathing deeply of the winds pulsed forth by the falling spray. The plunge basin concentrates that strength, gathering the breeze, flinging it at me like a kiss. There's the feel of moisture on my face and an afterglow left by the touch of something too precious for words.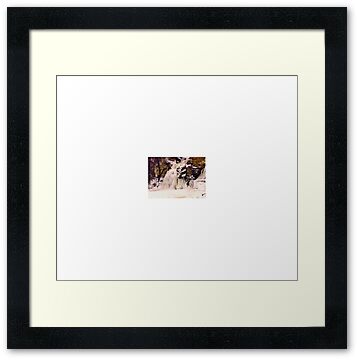 Nikon F4S, f/22 at 1/125, 35mm, Fuji Reala 100, Bogen tripod/head, Linville Gorge, Blue Ridge Parkway