"MA WEE BUM IS IN TATTERS! AH'M STICKIN' WI' SUNFLOOWER SEEDS FRAE NOO ON"
Gone with the wind.…… or the perils of the high fibre diet.
Black-capped Chickadee, Poecile atricapillus
Cooper Marsh, Lancaster, Ontario, Canada
January 5, 2012
The deep freeze has abated for a couple of days. It was about minus 4 and the sun was out, although there was a threatening bank of clouds over New York way. Who cares, eh? I thought it would be nice to spend a couple of hours down at The Marsh. So I drove down, got the gear out the car. set off for the trails and found, to my dismay, that there was a delightfully slippery layer of ice under the thin cover of snow. This made for interesting walking. But I digress. There's one spot along the trail that leads to the Visitor Centre where the Chickadees hang out in unruly gangs, awaiting to ambush the unwary.
I stopped at that spot and was immediately surrounded by a large number of the wee divvils, looking at me speculatively from the surrounding trees with their beady little black eyes. Sunflower seeds duly produced and the assault began. I had them on my head, arms legs, feet, jacket sleeves, backpack, camera, lens, tripod, outstretched hand, chirping invective at each other and me….well, you get the picture. Only I couldn't. It was just a little too busy. So I chucked out a whack of seeds to distract them and moved quickly along to the Visitor Centre where there's a small donation box that's just perfect for putting out a handful of seeds for the feathered piranhas.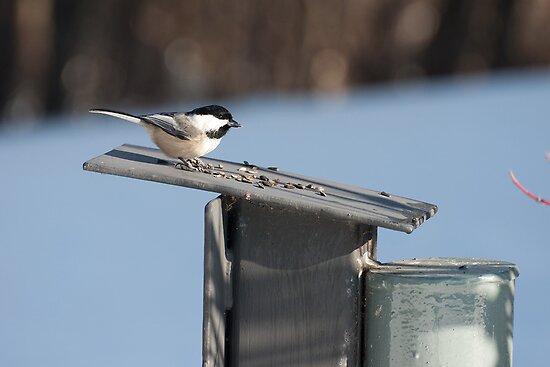 I placed a good handful on the top of the box and within seconds, the assault began again, only I wasn't the target this time. The Chickadees were zooming in and out from all directions and it was chaos. A bit like De Gaulle Airport on speed.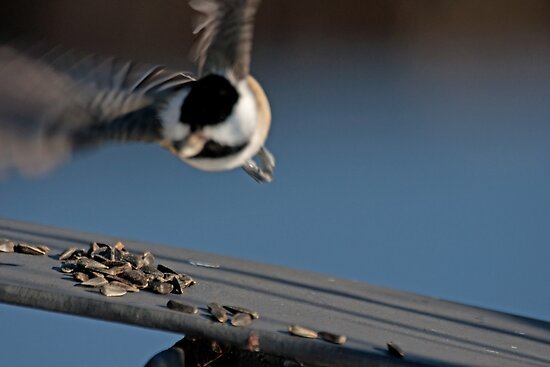 Lurking timidly in the background were a few other birds, Bluejays and the like, but I think they were a little leery of joining in the fun. Black Friday in the U.S. sprang to mind.
I left one more handful, packed up the gear and cautiously made my way back to the car.
Sony Alpha 700, Sigma 170 to 500 at 400 mm
iso100, spot metered, F6.3, 1/320 second
Tripod