Merry Christmas, Everyone!!
The tradition continues.
Once again the demented cook batters about the kitchen, throwing together a pot of gumbo for the Riverdale Mob and sporting the latest in fashionable headgear. Watch out, however, he has access to sharp things! We had the more traditional Christmas dinner last night, so The Sister and Co. are taking it easy while I slave over a cold cutting board and a hot stove. Chicken, Andouille and Shrimp Gumbo, now simmering for 3 hours on the stove. And here it be. Recipe below.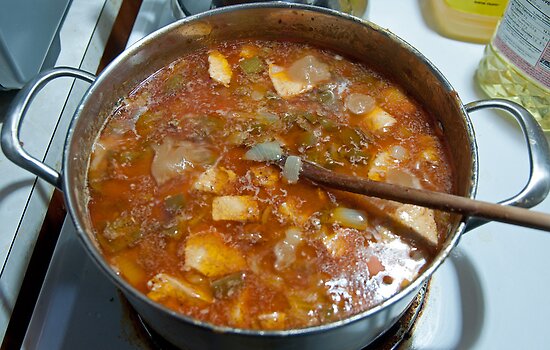 The Recipe (for those who missed it last year)
1 cup of vegetable oil
1 cup of flour
1 ½ cups of chopped onion
1 cup chopped celery
1 cup chopped green pepper
1 pound smoked andouille (I make my own, so if you'd like the recipe, just let me know), cut into ½ inch slices
1 ½ teaspoons salt
½ teaspoon cayenne
3 bay leaves
6 cups of water
1 pound boneless chicken meat, cut into 1 inch chunks
1 pound of large (24 to 30 count) shrimp, peeled and deveined
1 teaspoon Cajun seasoning (if you want the recipe for that, let me know, too)
2 tablespoons chopped parsley
½ cup chopped green (spring) onions
1 tablespoon filé (feelay) powder (I don't have any, so I didn't bother)
1. Combine the oil and flour in a large stainless steel pot over medium heat. Stirring slowly and constantly for 20 to 25 minutes, make a dark brown roux, the colour of chocolate.
2. Add the onions, celery and green pepper and continue to stir for 4 to 5 minutes, or until wilted. Add the sausage, salt, cayenne and bay leaves. Continue to stir for 3 to 4 minutes. Add the water. Stir until the roux mixture and water are well combined. Bring to a boil, then reduce heat to medium low. Cook, uncovered, stirring occasionally for 1 hour.
3. Sprinkle the chicken with the Cajun seasoning and add to the pot. Simmer for 2 hours. Add the shrimp at the end of simmering
4. Remove from the heat and stir in the parsley, green onion and filé powder – if you have any
5. Fish out the bay leaves and serve in deep bowls
Note – if you use filé powder, you can't reheat the gumbo – it goes all lumpy, apparently.
Cornwall, Ontario, Canada
December 25, 2011
Sony Alpha 700, Sigma 17 to 70 at 24 mm
iso 100, spot metering, F 3.5, 0.5 second, wireless remote
Tripod