Black Capped Chickadee (Poecile atricapillus)
Upper Canada Migratory Bird Sanctuary, Morrisburg, Ontario, Canada
November 6, 2011
I hadn't been to The Sanctuary for some time and, with it being such a lovely day (sunny and 18c – 64 American – thanks, Gene!), I decided to go for a little wander. It seemed like most of Eastern Ontario had the same idea. Scads of noisy folks, kids and dogs, running around and no wildlife within a 20 mile radius with the exception of a whack of geese and gulls in the river, plus the ever scrounging Chickadees. Still, it was nice to see one and all enjoying nature. Right….
I was slowly walking down one of the trails and there was no one around. I finally spotted a male Red Cardinal (a bird on my "must get" list) and quietly crept up on it, tripod and cam all set to go. Just as I was ready to take a shot, a young couple came bouncing around the corner, clutching a bag of bread for the birdies, and it buggered off to parts unknown. They gave me a cheery "hello" and told me that there was a Cardinal nearby and had I seen it?
Indeed I had I replied, folded up the tripod and went on my way.
I came across a Nuthatch a little further along the trail and it was being very busy as is the Nuthatch's wont. A little far away and I didn't think I'd have time to change to the Bigma.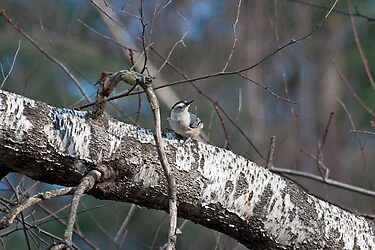 And then I arrived at the main Chickadee haunt. Also the main people haunt, too, apparently. Still, it was fun to see the wee ones laughing and excited as they fed the little birds. I gave up and decided to call it a day.
As I headed back to the car, I noticed a bunch of picnic tables right beside the trees that edge the parking lot and many Chickadees were flying from the trees to the tables. I approached and saw that there were some leftover seeds on the table and this was what was attracting them. A brainwave! I had a baggie of goodies in my pocket, so I placed some on the edge of one of the tables, stepped back about 3 feet, prefocused on them with the lens at 300 mm and waited. About 40 shots later, many on continuous shooting mode, I wrapped things up and headed home.
The above is one of the three shots that turned out.
I'm sticking with Cooper Marsh. The birdies are much more cooperative.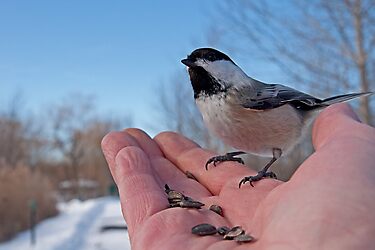 Sony Alpha 700, Sigma 28 to 300 at 300 mm
iso 400, multi-pattern metering, F6.3, 1/160 second
Tripod