Mourning Cloak Nymphalis antiopa
The Boardwalk, Cooper Marsh Conservation Area, Lancaster, Ontario, Canada
July 31, 2011
Best "viewed larger", if you have the time….
This time of year the birds are still quite plentiful but due to the foliage on the trees, they're pretty hard to see. The wildlife in general is keeping a very low profile, too. There's lots of it, mostly hidden by the dense growth now covering The Marsh. Those that you can see are usually way off in the distance, just beyond the limits of the lens. Like this Great Blue Heron.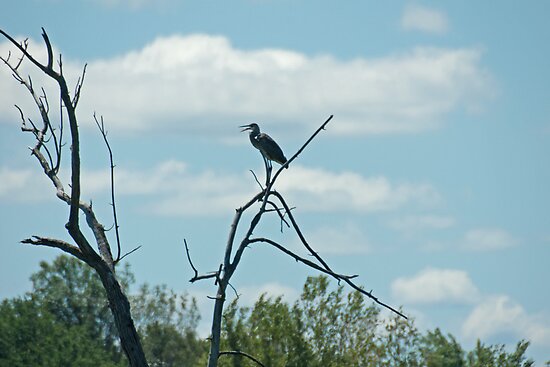 And this Osprey.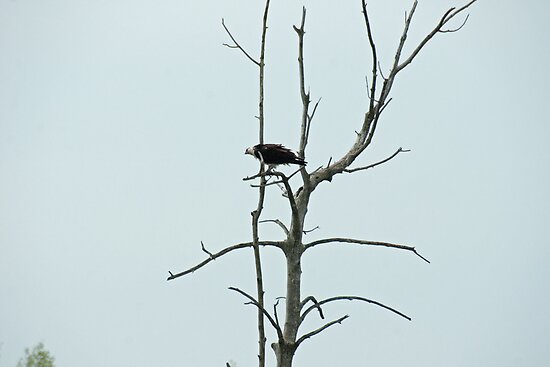 There's the odd mysterious splash, lots of weird noises emanating from the undergrowth and the ever present startled chirps and squeaks of the disturbed wee frogs as they jump away from the proximity of the boardwalk when you walk by. Dragonflies abound, whizzing hither and yon, deeply concentrating on Dragon business and the odd butterfly appears on the scene. Like this one. It landed on the handrail of the boardwalk and, of course, as soon as I got the tripod off my shoulder, the lens at the right angle, focus achieved, it buggered off over the horizon.
"Jeepers!" I said. "How unfortunate."
Then it came back and landed on one of the pillars on the opposite side and condescended to stay there for a few moments. I was able to get off a shot, move a few feet closer and try for another. Unfortunately, I got too close for the minimum focusing distance of the old Bigma.
"Goshdarn!" I said. "Aren't you a silly photographer?"
Back up half a step and all was revealed. Pic duly taken.
With thanks to www.naturenorth.com and Doug Collicutt
The mourning cloak is one of a number of butterfly species that overwinter as adults. They spend the winter frozen in "cryo-preservation" in tree cavities, beneath loose tree bark or in unheated buildings. Virtually anywhere they can fit into, to protect them from winter winds and keep them out of the view of birds and squirrels, will do as a hibernaculum (an overwintering den).
The North American common name for this species, mourning cloak, refers to its resemblance to a traditional cloak worn when one was "in mourning". Its common name in England is "Camberwell Beauty". Doubtless, it has many other common names throughout its Eurasian range.
Scientific Name
Nymphalis – of, or pertaining to a fountain (Latin)
antiopa – wife of Lycus, King of Thebes (Greek)
DESCRIPTION
Mourning cloaks are a fairly large butterfly with a wing span of 6-10 cm. The dark, brown wings with beige coloured edges and blue spots make them easy to identify. The underside of the wings are cryptically coloured, dark brown with lighter brown edges.
DISTRIBUTION
The mourning cloak is found throughout most of North America and Europe and in a broad band across central Asia.
LIFE CYCLE
Adult mourning cloak butterflies emerge from their winter hibernation and seek each other out for mating in the spring. In forested habitats, males will perch in sunny glades and wait for females to flutter by. After a brief aerial courtship the pair will mate. The females lay bunches of eggs (30-50?) together on a single tree or shrub, in a mass that surrounds a twig. The butterflies probably die soon after mating and egg laying, having spent as much as 10 months as adults, a long life for a butterfly.
HABITAT
Mourning cloaks are found just about anywhere that their main larval food species are found. They don't seem to be linked to any particular habitat type. But their larval host plants are all trees or shrubs, so these must be available in order for the butterflies to exist in a given area.
FOOD
The caterpillars of mourning cloaks eat the leaves of a wide array of trees and shrubs. Some of their more common host plants include: assorted willows (Salix spp.),aspens and cottonwoods (Populus spp.), elms (Ulmus spp.), and paper birch (Betula papyrifera). Willows seem, to me, to be their favorite food, although in urban areas they really seem to like elms.
The adult butterflies will occasionally come to flowers for nectar, but it's thought that most of their sustenance comes from sap or decaying fruit. Using tree sap as food would explain why mourning cloaks can gain some advantage from arising so early from hibernation. When the sap starts to rise in spring it often seeps out of the bark in places where the tree has been damaged over the winter. In summer you'll often find them at fresh holes in trees left by drilling sapsuckers (a kind of woodpecker). Also, like many other butterflies, they will extract salts or other nutrients from mud puddles or even from animal droppings.
BASKING
Butterflies must be warm to fly. They need body temperatures close to ours for proper flight. Once they are flying their flight muscles usually provide enough heat to keep them going. Most butterflies bask, opening their wings and angling their bodies toward the sun, to increase their body temperature prior to flight. Basking is particularly important for butterflies that are active in early spring, like the mourning cloak. All of our spring-active butterflies have dark coloured bodies and wings to aid in this solar heating.
Sony Alpha 700, Sigma 170 to 500 at 500 mm
iso 100, spot metered, F6.3, 1/40 second
Tripod