Tawny-edged Skipper 
Polites themistocles on Bird's Foot Trefoil Lotus corniculatus
The Summit, Mont Tremblant, Quebec, Canada
July 16, 2011
Best "viewed larger", but only if you feel like it!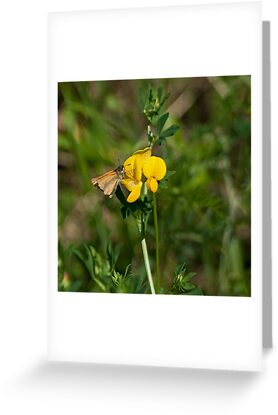 With thanks to http://www.cbif.gc.ca
Description
Polites themistocles is a small (wingspan: 19 to 28 mm) dark brown skipper. Males have a black stigma bordering a bright orange costal patch, with one or two pale orange patches beyond the stigma. The female has a very small amount of orange on the costa (sometimes none at all), and the small patches are pale yellowish or white. The hindwing is dark brown and usually unmarked, above and below (some specimens may have a trace of a pale-spot band below).
Range
The Tawny-edged Skipper occurs throughout the U.S. except in the extreme south and most of the west. In Canada it ranges from the Maritimes (except Newfoundland) across southern Canada as far north as Mistassini Post, Quebec, Moosonee, Ontario, The Pas, Manitoba, Meadow Lake Park, Saskatchewan, Redwater, Alberta, and Cuisson Lake Road, British Columbia.
Early Stages
The larva is various shades of brown with darker dorsal and lateral lines. The head is black with white spots and lines. Foodplants are grasses, including panic grass (Panicum spp.), crab grass (Digitaria spp.), and blue grass (Poa spp.).
Abundance
The Tawny-edged Skipper is common in the east, uncommon in the west.
Flight Season
Polites themistocles flies from early June to mid-July in the east and until the end of July in Manitoba. There is one generation per year in most of Canada and a partial second brood in southern Ontario; there are two in the northern U.S. and more farther south.
Habits
In the east, this species is most common in moist meadows; in the west it occurs in forest clearings, grassy valleys, mountain meadows, and even in dry prairie habitats, though always seeming to prefer lush, moist, grassy areas. It is commonly seen on flowers, especially those of the pea family, and sipping moisture at damp areas along country roads.
With thanks to www.agriculturalproductsindia.com
Birdsfoot trefoil Lotus corniculatus, is a perennial weed, which has a low mat-forming growth habit. Often termed as Bird's-foot Trefoil, it is also known in cultivation in North America as Birdfoot Deervetch. This moderate perennial legume has grown worldwide as a forage and animal feed supplement. As ground cover, it provides green cover most of the year and blooms profusely.
The stem of a birdsfoot trefoil plant grows to about 60 cm (2 feet) long. Leaves are smooth and consist of 5 leaflets. It has a well developed, branching, tap-like root with side roots near the soil surface. The bloom is made up of a cluster of bright yellow flowers arranged in a whorl at the end of the flowering stems. Due to its appearance of the seed pods, it got the name of 'bird's foot.
 Like other forage legumes, birdsfoot trefoil also requires fertile and well-drained soil. It is well suited to low and moderately fertile soils with relatively poor internal drainage. It is typically sprawling at the height of the surrounding grassland.
Birdsfoot trefoil spreads by seed that germinates in the spring, but can also spread by rhizomes and stolons to form dense patches. In USA, it is often confused with large hop clover.
Sony Alpha 700, Sigma 28 to 300 at 280 mm, circular polarizer
iso 100, spot metered, F6.3, 1/320 second
Tripod