Black-crowned Night-Heron Nycticorax nycticorax
Cooper Marsh Conservation Area, Lancaster, Ontario, Canada
May 22, 2011
I was walking along the trail to the boardwalk and a little flash of movement caught my eye. A closer look and I saw this little heron hopping from branch to branch at the bottom of the bank. It finally stopped and started dipping its beak into the water. I moved the camera and tripod a number of times to try and get a clear shot through all the branches, but it was concentrating too much on the water. I made all kinds of subtle noises to get it to look up, but to no avail. Finally I tried that time tested trick known to all birders. I called out, "Jaysus! Are ye deef? Will you look at me when I'm trying to photograph you?" Seemed to work.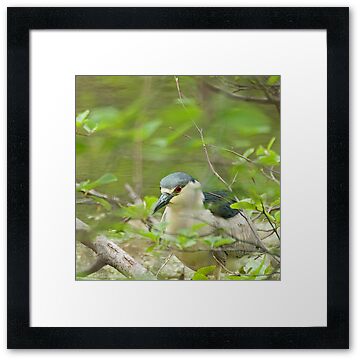 With thanks to www.allaboutbirds.org
With a range that spans five continents, including much of North America, the Black-crowned Night-Heron is the most widespread heron in the world. It is most active at dusk and at night, feeding in the same areas that other heron species frequent during the day.
A few facts.
Young Black-crowned Night-Herons often disgorge their stomach contents when disturbed. This habit makes it easy to study its diet.
The Black-crowned Night-Heron may nest in the same tree with ibises or other herons.
Adult Black-crowned Night-Herons apparently do not distinguish between their own young and those from other nests, and will brood chicks not their own.
Habitat
Various wetland habitats, including salt, brackish, and freshwater marshes, swamps, streams, lakes, and agricultural fields.
Food
Aquatic invertebrates, fish, amphibians, lizards, snakes, rodents, eggs, and other foods.
Nesting
Nest Description:
A platform of sticks placed in tree or cattails. Nests colonially; more than a dozen nests may be in a single tree.
Sony Alpha 700, Sigma 170 to 500 at 500 mm
iso 400, spot metered, F 6.3, 1/160 second
Tripod