Female American Goldfinch Spinus tristis
Cooper Marsh Conservation Area, Lancaster, Ontario, Canada
May 22, 2011
The rains held off and I decided an early trip down east was in order. A quick 30 minutes down the lovely Highway 2 along the banks of the Mighty Saint Lawrence River and I arrived at the Marsh. And there were a surprising amount of cars in the parking lot. 90% had Quebec plates on them. It's so nice to see that the folks from our neighbouring province enjoy this little conservation area so much!
The birds were in full song, chirping away and simply full of joie de vivre, in spite of the cloudy conditions. Many different types seen, even more heard, but few captured for posterity. This wee lady was quite cooperative, unlike most of the others.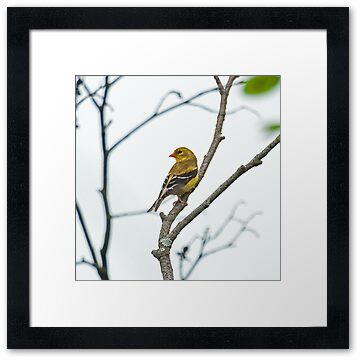 With thanks to www.allaboutbirds.org
This handsome little finch, the state bird of New Jersey, Iowa, and Washington, is welcome and common at feeders, where it takes primarily sunflower and nyjer. Goldfinches often flock with Pine Siskins and Common Redpolls. Spring males are brilliant yellow and shiny black with a bit of white. Females and all winter birds are more dull but identifiable by their conical bill; pointed, notched tail; wingbars; and lack of streaking. During molts they look bizarrely patchy.
Habitat
Weedy fields, open floodplains, and other overgrown areas, particularly with sunflower, aster, and thistle plants for food and some shrubs and trees for nesting. Goldfinches are also common in suburbs, parks, and backyards.
Diet
Goldfinches eat seeds almost exclusively. Main types include seeds from composite plants (in the family Asteraceae: sunflowers, thistle, asters, etc.), grasses, and trees such as alder, birch, western red cedar, and elm. At feeders prefers nyjer and sunflower.
Behaviour
American Goldfinches are active, acrobatic finches that balance on the seedheads of thistles, dandelions, and other plants to pluck seeds. They have a bouncy flight during which they frequently make their po-ta-to-chip calls. Although males sing exuberantly during spring, pairs do not nest until mid-summer, when thistles and other weeds have gone to seed. Goldfinches do not join other songbirds mobbing predators.
Sony Alpha 700, Sigma 170 to 500 at 500 mm
iso 400, spot metered, F9.0, 1/640 second
Tripod