Yellow Warbler Dendroica petechia
Cooper Marsh, Lancaster, Ontario, Canada
May 6, 2011
You need a lot of patience when Osprey watching. Not too much activity going on at all this particular afternoon. He just sat there on the branch, scratching himself and uttering the odd whistle. Yawn. Be still my trembling heart.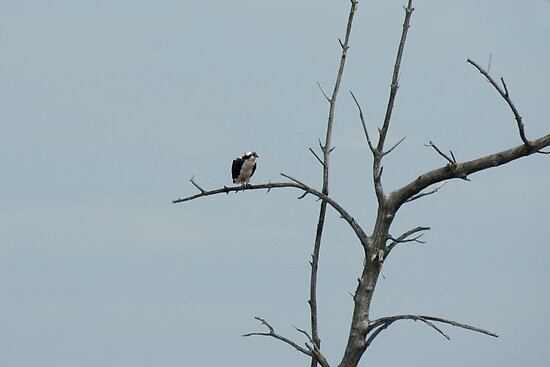 But there's an added bonus. You're in the same spot for so long, not moving about much, the odd little birdie will land in the trees close by. I don't think this warbler had any idea I was there, so it landed, chirped a few times and just looked pretty. All I had to do was move the lens a couple of degrees and refocus. That old Bigma zoom certainly has its uses.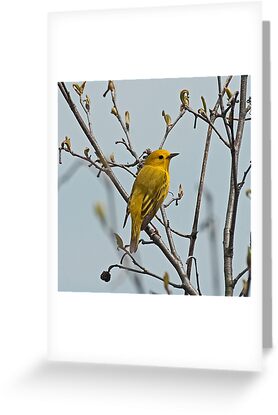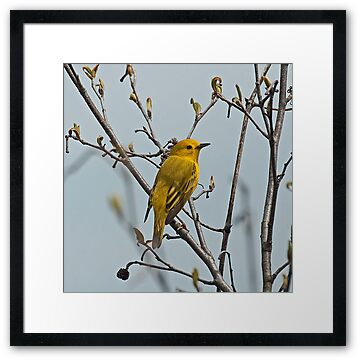 With thanks to identify.whatbird.com
Order
PASSERIFORMES
Family
Wood Warblers (Parulidae)
Overview
Small warbler with olive-yellow upperparts and bright yellow underparts with rust-brown streaks on breast, sides. Wings are dark with two white bars. Tail is dark with yellow-tinged edges. Has a wider range than any other North American warbler. Eats insects, larvae, and some fruit.
Range and Habitat
Breeds from Alaska east across Canada to Newfoundland and south to southern California, northern Oklahoma, and northern Georgia. Spends winters in southern Florida and the tropics. Preferred habitats include edges of marshes and swamps, willow-lined streams, leafy bogs, thickets, orchards, farmlands, forest edges, and suburban yards and gardens.
Some interesting facts:
A group of yellow warblers are collectively known as a "stream", "sweetness", and "trepidation" of warblers.
Recent DNA-based studies indicate that the Chestnut-sided Warbler is their closest relative. Both sing similarly phrased songs.
The Yellow Warbler was first described in 1766 by Carolus Linnaeus, a Swedish botanist, physician and zoologist.
Their nests are frequently parasitized by the Brown-headed Cowbird. They often build a new nest directly on top of the parasitized one, sometimes resulting in nests with up to six tiers.
Sony Alpha 700, Sigma 170 to 500 at 500 mm
iso 400, spot metered, F6.3, 1/640 second
Tripod