Rotary Eco Gardens, Cornwall, Ontario, Canada
April 1, 2011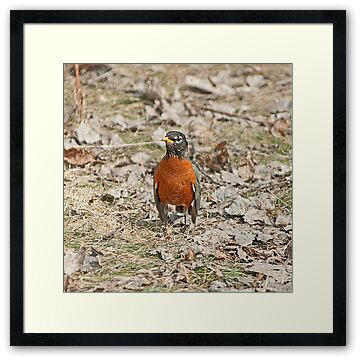 A beautiful spring day in the GWN. 10 degrees (about 50 f), sunny, light winds. Still the odd bit of snow and ice around and the frost is still in the ground. Let's just hope that this beauty weather is not some cruel April Fool's joke by Ma Nature. Despite previous encounters with evil creatures, I decided to take a wee wander round the Eco Gardens and, fortunately, I remained free from attack and left unscathed.
With thanks to Wikipedia:
The American Robin or North American Robin (Turdus migratorius) is a migratory songbird of the thrush family. It is named after the European Robin because of its reddish-orange breast, though the two species are not closely related, with the European robin belonging to the flycatcher family. The American Robin is widely distributed throughout North America, wintering south of Canada from Florida to central Mexico and along the Pacific Coast.
The American Robin is active mostly during the day and assembles in large flocks at night. Its diet consists of invertebrates (such as beetle grubs and caterpillars), fruits and berries. It is one of the earliest bird species to lay eggs, beginning to breed shortly after returning to its summer range from its winter range. Its nest consists of long coarse grass, twigs, paper, and feathers, and is smeared with mud and often cushioned with grass or other soft materials. It is among the first birds to sing at dawn, and its song consists of several discrete units that are repeated.
The adult robin is preyed upon by hawks, cats and larger snakes, but when feeding in flocks, it is able to be vigilant and watch other birds for reactions to predators. Brown-headed Cowbirds lay eggs in robin nests (see brood parasite), but robins usually reject the cowbird eggs.
The American Robin is the state bird of Connecticut, Michigan and Wisconsin. It was also depicted on the 1986 Birds of Canada series Canadian $2 note, but this note has since been withdrawn. Robin's egg blue is a color named after the bird's eggs.
The Tlingit people of Northwestern North America held it to be a culture-hero created by Raven to please the people with its song.
One of the Houses of the Raven Tribe from the Nisga'a Nation holds the Robin as a House Crest.
The Robin is considered a symbol of spring. A well-known example is a poem by Emily Dickinson, "I Dreaded That First Robin So". Among other 19th-century poems about the first robin of spring is "The First Robin" by Dr. William H. Drummond, which according to the author's wife is based on a Quebec superstition that whoever sees the first robin of spring will have good luck.
American popular songs featuring this bird include "When the Red, Red Robin (Comes Bob, Bob, Bobbin' Along)", written by Harry M. Woods and a hit for Al Jolson and others, and "Rockin' Robin", written by Roger Thomas and a hit for Bobby Day and others.
Although the comic-book superhero Robin was inspired by an N. C. Wyeth illustration of Robin Hood, a later version had his mother nicknaming him Robin because he was born on the first day of spring. His red shirt suggests the bird's red breast.
SonyAlpha 700, Sigma 28 to 300 at 300 mm, circular polarizer
iso100, spot metered, F6.3, 1/80 second
Tripod