Inspired by a very old "Fancy Dress Party" joke and democracy's view of those in absolute power. Conceived and executed after all the Christmas loot was wrapped and I had just a little too much time on my hands.
Taken, with no expense spared, in the kitchen counter studio.
Cornwall, Ontario, Canada
December 23, 2010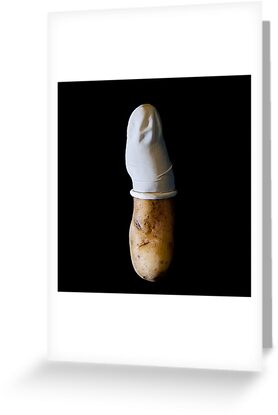 Subject: a fingerling potato, about 2" long.
No comments on that, please!
"Head" gear: latex finger cot.
Lighting: two LED flashlights (torches).
Backdrop: the old faithful ratty black velvet.
Stand: Waring Pro knife sharpener under said ratty
Additional aids: pushpin to hold fingerling in place
Sony Alpha 700, Sigma 17 to 70 at 60 mm
iso 100, spot metered, Aperture Priority F4.0, 1/20 second
Tripod
1190 views, 29 "favourites" as of 10/1/11
Featured on the RB Explore Page 4/17/11