Guindon Park Ski Trails, Cornwall, Ontario, Canada
October 11, 2010
I was wandering the trails today and came across a tiny stream, probably the result of all the rain we've had the past couple of weeks. At one point, I noticed a bit of a rainbow, so I went for a closer look. It appeared that there was a little bit of oil or gas on the surface of the water, not an unusual find in this once industrialized town and the park does happen to be right beside the hydro-electic dam. There are also some natural seepages of some type that have this effect, too.
Just in case, however, I started tracing the stream to its source, thinking that there might have been something dumped (that wouldn't be a surprise) that should be reported. As I walked further along, I thought I heard a discordant singing coming faintly through the trees. I reached a clearing and this is the sight that met my eyes. A wee troll having its bi-annual bath before the cold weather really sets in. I should have known.
Here she is. Told me her name was Grace Slick, but I didn't quite believe her….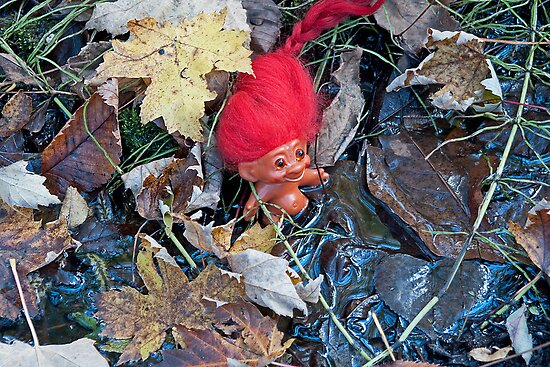 Sony Alpha 700, Sigma 28 to 300 at 200 mm
iso 100, spot metered, manual focus, F6.7, 0.7 second
Tripod