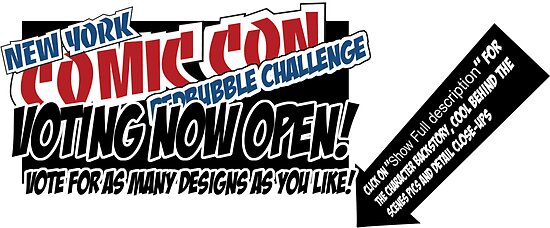 Close ups and original drawings:





Created especially for the New York Comic Con Design Challenge. For more background on the design process then look no further than here. I encourage everyone to vote for their favourites (not just mine).
Also available in a t-shirt. Try out all the different shirt colour options and gasp in wonder as the hulking demolition-of-no-volition changes colour too!
Presenting the story of Professor Mad Brainer!!
Power Gal by day – Science Post Graduate by night school our lovely super powered heroine was both the city's protector and noble insight all packaged in a tidy purple one piece Lycra uniform. For a long and courageous career she battled the forces of evil on the streets and in the Petri dish. Her exploits won her the key to city and the acclaim of her peers. But when it came to hang up the her super digs and put away the lab coat, our still bright eyed protagonist wasn't ready to retire but instead longed for something new. While her comrades retired to retirement villages and park benches our hero decided that she wanted to have a little fun with her winter years.
So, with a new handle and a dastardly new costume she made her new career debut. The impact on down town boulevard shook hero-tropolis to it's knees as the 85 metric tonne behemoth touched down from it's orbital descent. The man shaped creature roared insensibly whilst inflicting little more than minor property damage.
She'd called him out and it didn't take long. A next generation caped crusader met our hero come villain's challenge. The two combatants measured each other with a silent gaze then the old lass smiled sweetly as she thought of how much fun this game could be.
The hulking demolition-with-no-volition raised it's mighty mitt high above the still unfazed superhero and readied to slam him into the tar. Our sweet old villainess smiled with glee as she cackled over the megaphone:
"Professor Mad Brainer gonna SMASH YA!!"
© Copyright 19/09/2011 by Michael Lee