Please view large!
Lennard Gorge (the Lennard River), on the Gibb River Road in The Kimberley, Western Australia.
Back in 2008, I hired a ute from Kununurra and threw my swag in the back to explore the Gibb River Road for ten days. I found this badly-signposted gorge, with a goat-path-type track leading to it, and decided 'what the heck' and went in… only to find that the path led to a near-vertical rockface and a barely-discernable path requiring much white-knuckled lowering-of-body-onto-ledge-below type climbing. It ended up being one of the highlights of my trip. It is, in my opinion, the most spectacular of all that I visited.
It has taken me exactly three years to find the time to get there again… but I was not disappointed. It is even more beautiful than I remembered. Absolutely amazing.
In the invervening years, there has been a lot of work done at the gorge. There are toilets at the carpark, it is well-signed, and the track is perfectly obvious. Unfortunately, the track down the rock-face seems to be off-limits now. Apparently someone died there :(
The reason it is so deep (according to the Dept of Environment and Conservation) is that one side is Dolerite, and the other is Sandstone, and as the Kimberley was lifted by geological forces, the river cut its way down through the join. What they don't say is that this area is Bunuba country, and well-known to the Bunuba people for thousands of years.
Nikon D60 (Sigma 10-20mm)
My bubblesite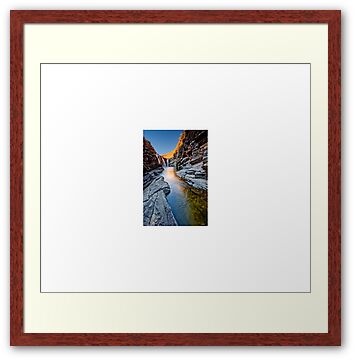 Another from Lennard Gorge: