...and it just keeps getting better!
Well, I thought being asked to hang my paintings on the walls of a brand new cafe was the 'bees knees', but on Saturday night, I found out that I wasn't quite at the summit of my good-luck mountain yet …
… because although the winner of the "Prints on Canvas" section was announced as "Mike Boynton", the name of the winning photograph in the Kimberley Art Prize was A Kimberley Skyscape and I was pretty sure that mine was the only one with that title!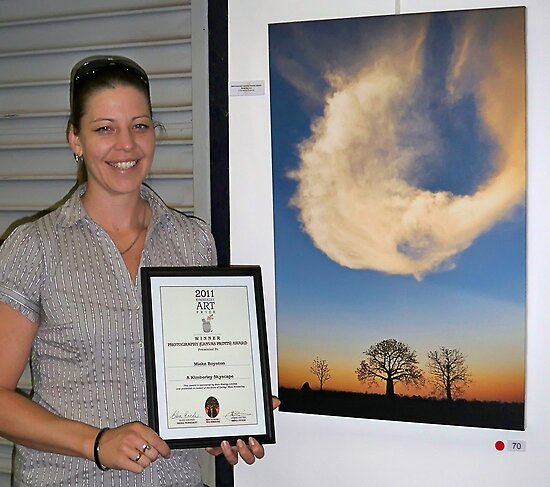 It is the first Major Art Prize I have won, and I'd like to thank the Shire of Derby/West Kimberley for hosting such a prestigious and acclaimed event, and the judges for selecting my photo, and Buru Energy for the $1000.00 in prize money (yes, as my young friend Rori so accurately pointed out – "that's ten hundred dollars!!!").
But most importantly, I'd like to thank everyone who has encouraged me in my pursuit of becoming a good photographer. Of course that's my family, and my friends, but it's also the amazing Bubblers who constantly say the most wonderful things about my photos, and have helped me start to believe that I might actually be 'on to something' here!!! And thanks to the POTD-ers who've had to put up with me for a really long time (and for the December 10th "NDDO" which is when I took the shot)! Special thanks to Mel and Robyn for helping me choose which prints to enter when an unexpected hiccough occurred!
Thank you all very much. Seriously. I know I've only met a handful of you in person, but many of you have been supporting me since I first joined RB (back in October '09) and a lot of my learning has come from your feedback, advice, critiques (gentle ones, for which I'm infinitely grateful!) and compliments. And for the purchases, which keep me happy-dancing in the kitchen more regularly than I ever thought possible!!! I am truly grateful!!
Finally, the opening of the cafe for which you helped me select which prints to exhibit has been pushed back until next week, but the date of my Official Exhibition Opening has now been set in stone… Sunday, August 21st. So for anyone who is planning a trip to the Kimberley in Western Australia, please stop by and have an Award-Winning coffee made by Luc (pronounced "Looch" – short for Luciano) at Cafe Indulgence on Nevill St in Derby, and while you're there you can have a little look at my photos!!
Update 28/10/2011: Mister Baxter, in all his boxer-clad glory, has added to the joy of my win by handing over a much sought-after Buyer's Booth voucher… THANK YOU MISTER BAXTER!!!